Port Townsend Tours
Whales, Birds, Wildlife, & some of the nation's most stunning scenery – all viewable from our Port Townsend departure location.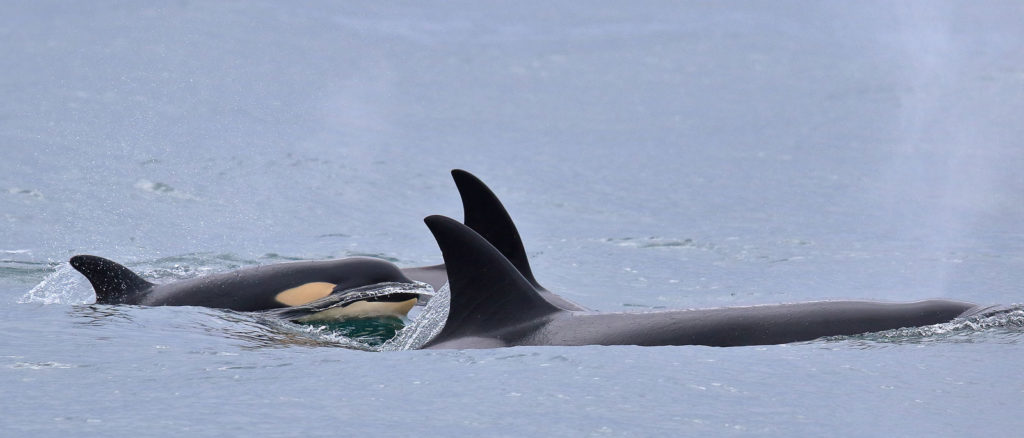 Port Townsend Half Day Whale Watching Tour
April 28 – October 30

This tour departs Port Townsend both in the morning (10:00am) and in the afternoon (during the summer @ 2:30pm). "PT" is ideally located to see whales; our range includes the San Juan Islands, Victoria, and Puget Sound.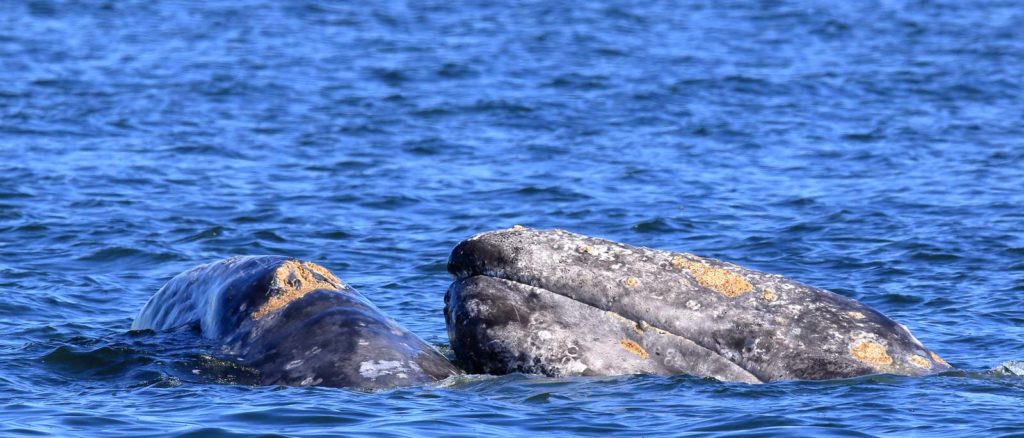 Port Townsend Gray Whale Watching Tour
March 1 – April 27

See gray whales on their annual migration from the Baja Peninsula to the Bering Sea. During their 10,000 mile journey, they make a detour into Puget Sound to feed on the ample ghost shrimp found here.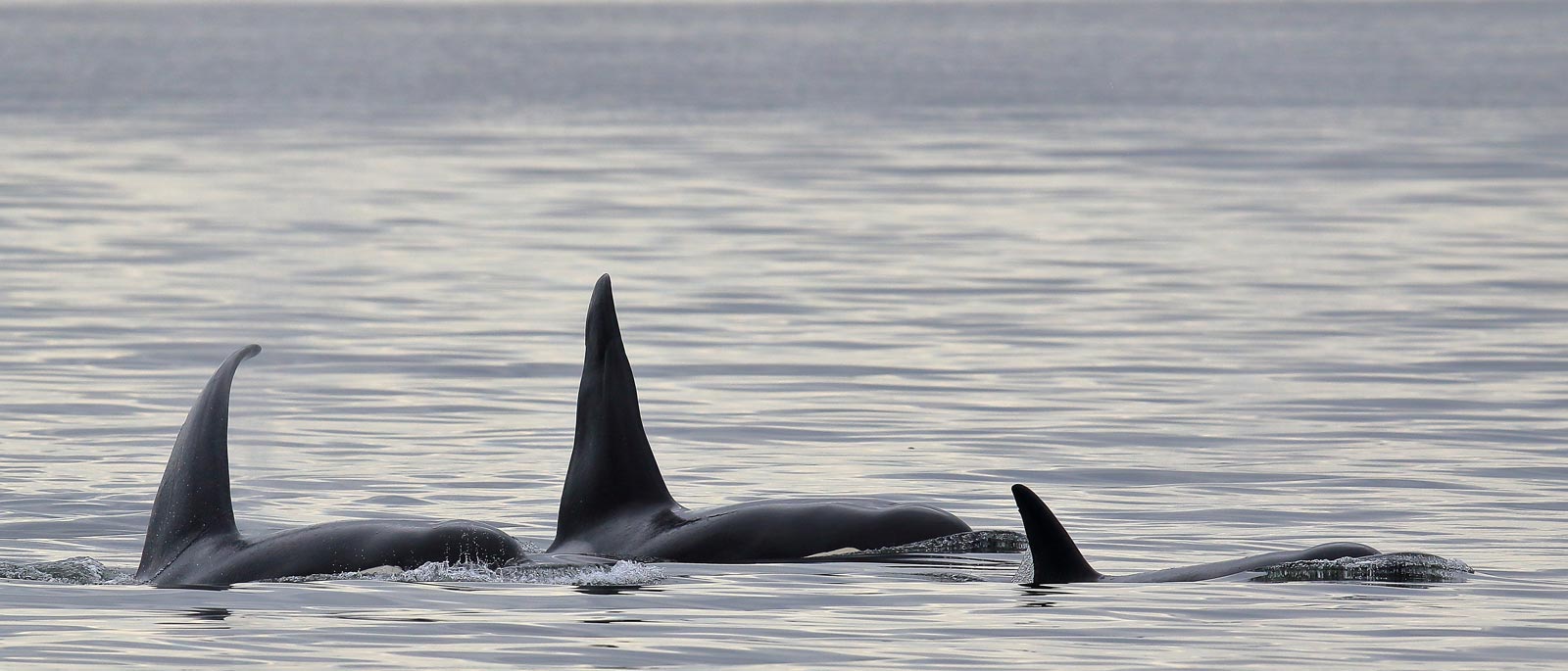 Port Townsend Full Day Whale Watching Tour
April 28 – September 24

Guaranteed whale watching with a two-hour lunch stop in Friday Harbor, on San Juan Island. This daylong tour is our signature tour – the one that started it all – a perfect combination of wildlife, and scenery.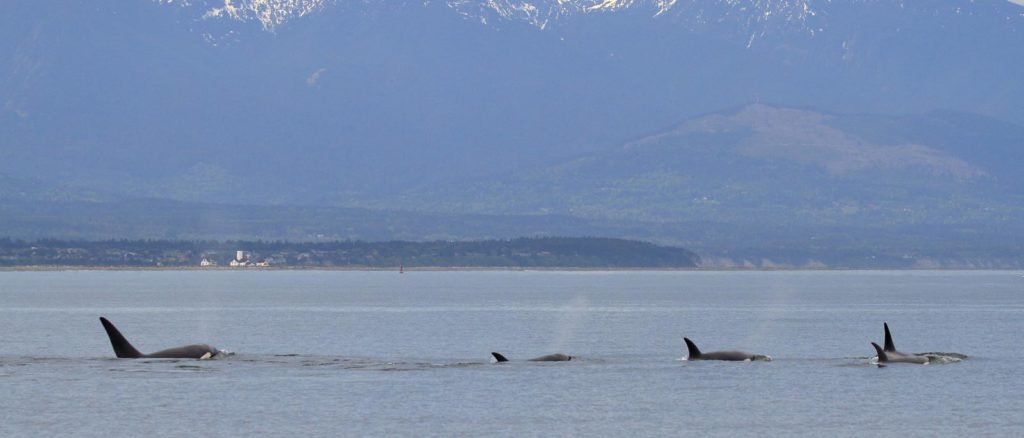 3-day San Juan Islands Wildlife cruise
July, October
Selected by National Geographic as one of the World's Top 3 destinations; see whales, wildlife, and a dizzying array of seabirds. Enjoy days on the water, and evenings on San Juan Island.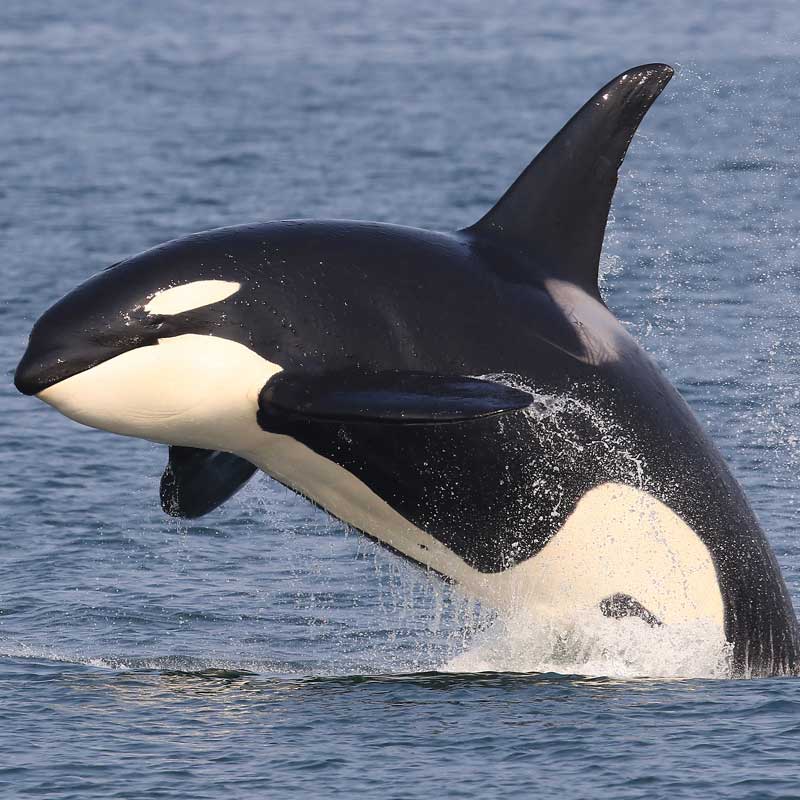 Bigg's Orcas (aka Transients)
Bigg's orcas are apex predators – mammal-eating orcas that feed on a variety of prey – from harbor seals to sea lions, and even dolphins and small whales. Bigg's orcas generally travel in small groups, usually of two to six animals, and can range from Southern California up to the Arctic circle. These are the orcas that we see most often in the Salish Sea, and they often put on quite a show after they complete a successful hunting foray! Bigg's orcas are named in honor of cetologist Michael Bigg.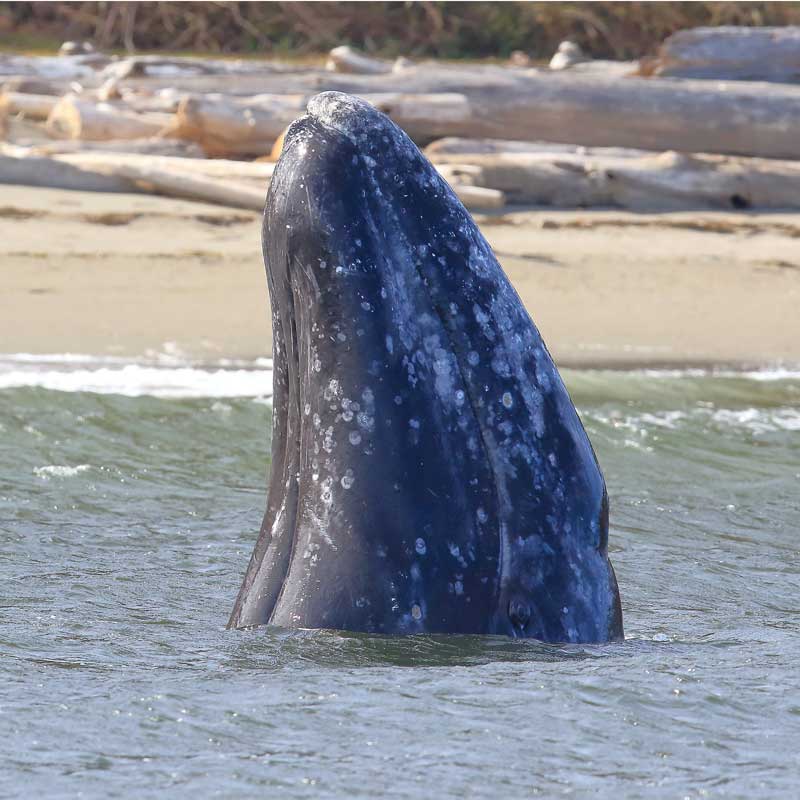 Gray Whales
The gray whale is a species of baleen whale, with a dark slate-gray color, and frequently covered by gray/white scars left by parasites which drop off in its cold feeding grounds. Grays have two blowholes on top of their head, which can create a distinctive heart-shaped blow at the surface. Adults range in length from 43–49 feet and weigh up to 40 tons. Each spring, gray whales migrate from the southern waters near Baja, north to Alaska. A small group of Grays nicknamed "Sounders" often turn east into Washington's inland waters during the spring northern migration.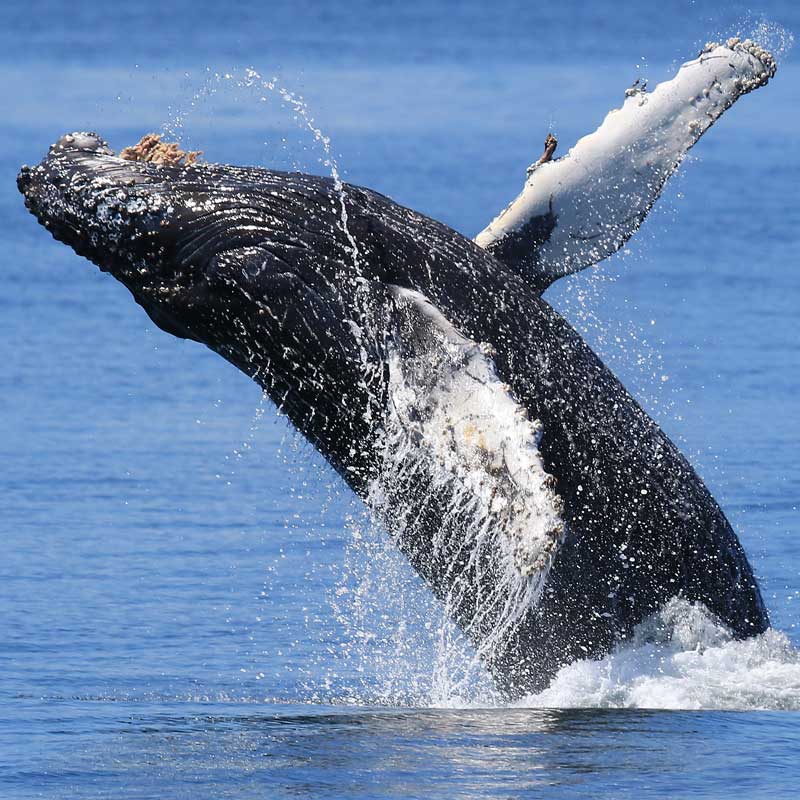 Humpback whales
The humpback whale is a species of baleen whale, and has a distinctive body shape, with long pectoral fins and a knobbly head. They are known for breaching and other distinctive surface behaviors. Adults range in length from 39–52 feet and weigh nearly 40 tons. Their diet consists mostly of krill and small fish.  Until commercial whaling was banned in 1996, humpbacks were nearly hunted to extinction. They have rebounded, however, and we are thrilled to have them back in our neighborhood.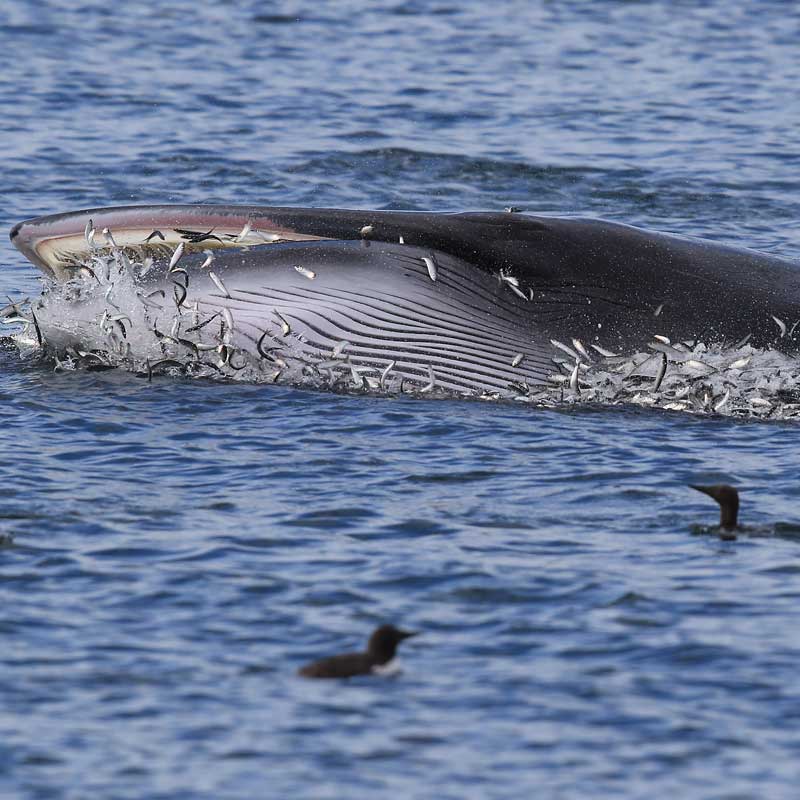 Minke whales
The elusive minke whale is among the smallest of the baleen whales. Previously known as a 'piked whale' or 'lesser finback', the minke has a dark gray back and white undersides. Their pectoral fins have a distinctive white patch or band. Minkes range in length from 23-33 feet and weigh up to 10 tons. Minke whales are widely distributed throughout the North Pacific and Atlantic oceans. They migrate seasonally from polar feeding grounds to equatorial waters, where they breed and calve. Minkes feed on small schooling fish, crustaceans, and plankton.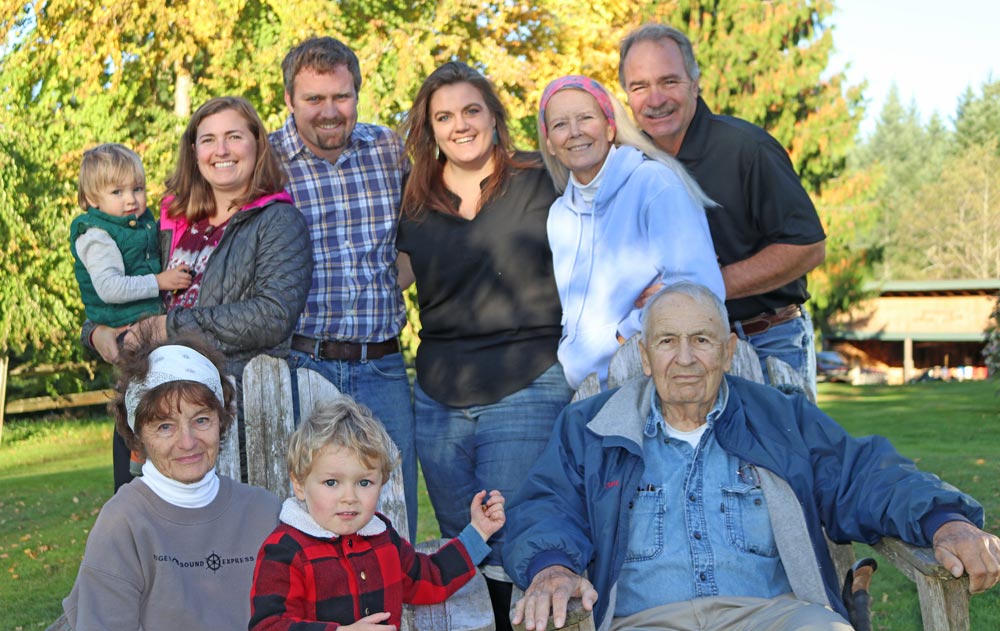 Three generations of our family have helped visitors have life-changing experiences with some of the most majestic creatures on the planet. We're blessed to live in what's been called "the American Serengeti," with some of the highest concentration of whales and dolphins and sea life anywhere in the world — including our totem species, the orca. Few people know these waters like we do. Our experience and dedication makes it possible for us to guarantee that you'll see whales on your trip — or we'll give you another trip absolutely free.
Whale-wise Whale Watching
Puget Sound Express is a proud member of the Pacific Whale Watch Association (PWWA), dedicated to responsible, sustainable marine wildlife viewing and conservation in the Pacific Northwest. We're also dedicated to reducing our footprint out there. The Saratoga and Swiftsure are sound-proofed, hydrofoil jet boats with no propellers, making them the quietest vessels in the whale watch fleet.
Learn about our practices and our conservation partners.