3-Day San Juan Islands Wildlife Cruise
Selected by National Geographic as one of the World's Top 3 destinations, the waters around the San Juan Islands are home to whales, wildlife, and a dizzying array of seabirds.
Upcoming Tours
October 1 – 3, 2024
Round TRIP FARES
Double Occupancy per person (be sure to reserve 2):
$1395 (October)
Single Occupancy per person:
$1595 (October)
King Suite Upgrade: $350
RATION
3 Days/2 Nights
Days will be spent viewing wildlife onboard the MV Glacier Spirit. We will spend our nights on San Juan Island at historic Roche Harbor.
AMAZING WILDLIFE
Join Puget Sound Express for exciting 3 day cruises through the San Juan Islands in Washington State. Selected by National Geographic as one of the World's Top 3 destinations, the waters around the San Juan Islands are home to orcas (killer whales), minke whales, gray whales, humpback whales, Steller sea lions, porpoise, otters, and a dizzying array of seabirds.
Wonderful Boat Trip!
We spent 3 days cruising the San Juan Islands looking at seabirds, whales, and wildlife. It was a wonderful time. The crew made sure we were well fed and well-cared for. The captain was professional and very safety-conscious. We had a professional bird guide to help us with sea birds. A wonderful trip all around.

Comfort
The MV Glacier Spirit is perhaps the most comfortable wildlife vessel in the Pacific Northwest. It features comfortable indoor seating for everyone, a wrap-around outside viewing deck, as well as a snack bar and restroom. Along with viewing whales, we often find bald eagles, harbor seals, California and Steller sea lions, tufted puffins and many other species of marine life.
Day One
We'll depart Port Townsend at 10am – crossing the Strait of Juan de Fuca – which is bordered by three mountain ranges, the Olympic Peninsula, and the San Juan Islands. It is one of the most beautiful seas to cross in the world.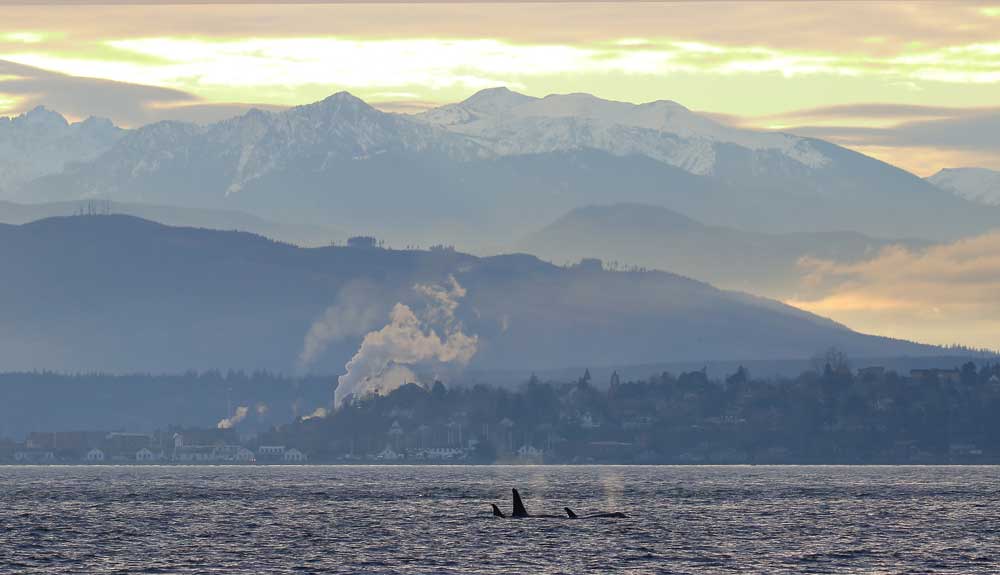 Along the way, our captain and naturalist will point out many seabirds and mammals that frequent these waters. Depending on where the orcas are traveling that day, we may also be fortunate to see them in transit. We'll have breakfast and lunch on-board.
Each night we'll be staying on San Juan Island. We will stay in Roche Harbor – in 1886, a sleepy Hudson Bay camp that was transformed into a full-fledged lime works and company town. Today because of it's beauty and location to Canada, Roche Harbor is the most popular boating resort in the Pacific Northwest and the Resort is renowned as the centerpiece of this harbor.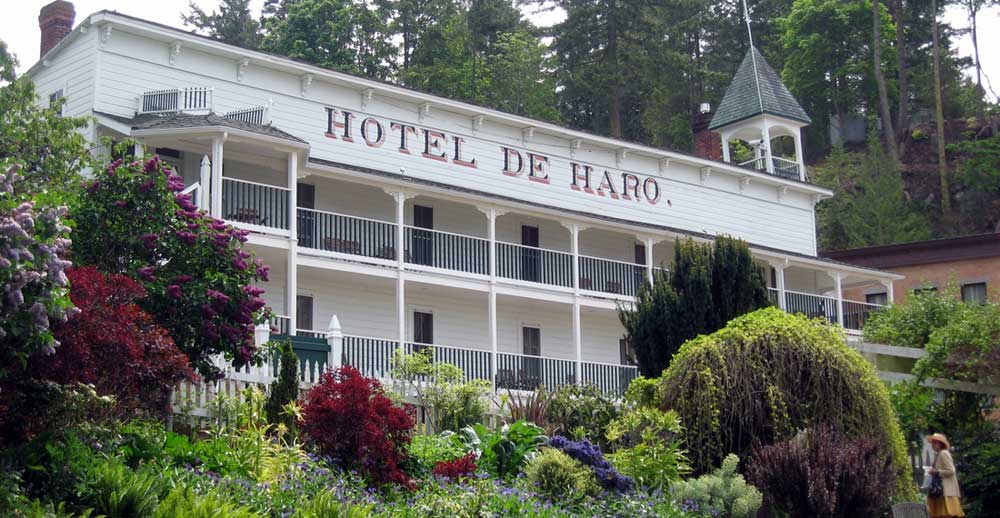 After arrival at our evening destination, you will have plenty of time to explore the scenery on your own. Hiking, kayak and bike rentals, tennis and swimming, are all possibilities for you to enjoy. Dinner is on your own in the evening.
Day Two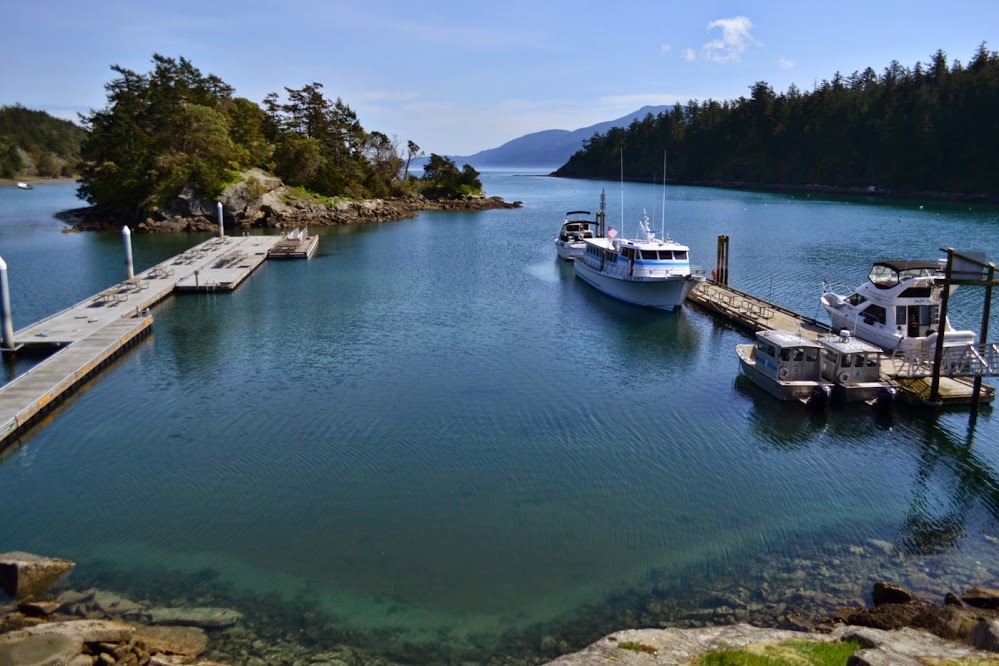 On Day 2 we'll board the Glacier Spirit at 9:30 for a wonderful day of sightseeing through the San Juan Islands. We will journey to famous Sucia Island State Park for 2 hours of walking and wildlife spotting.
Sucia Island State Park is a 564-acre marine park with 77,700 feet of shoreline. It is considered the crown jewel of the state's marine park system and is consistently ranked as one of the top boating destinations in the world. The shoreline is famous for its evocative, highly eroded sandstone formations – with cliffs, hoodoos, arches, and caves. Sucia Island is also a tremendous viewing area for seals, porpoise, eagles, seabirds, and whales.
Upon arrival at Sucia, a sack lunch is provided for you as you explore the island for the next two hours. We'll return to San Juan Island at 4:30 where you can enjoy the late afternoon and dinner on your own.
Day Three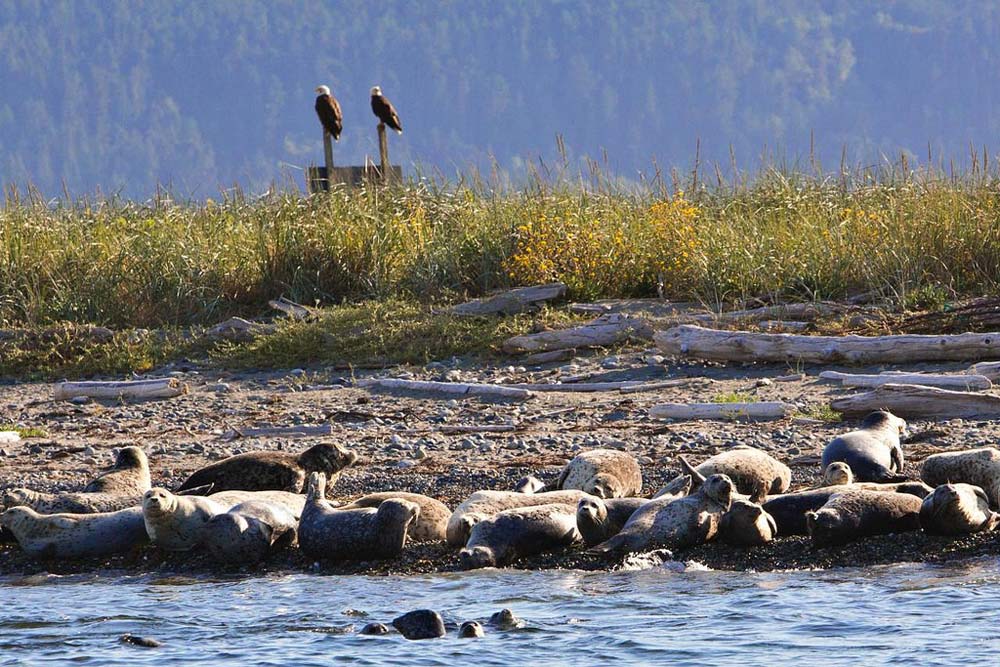 On Day 3, we begin our return loop back to Port Townsend. We'll say goodbye to San Juan Island at 9am. We will head on a new course through the islands, south through the Swinomish Slough and on through Deception Pass. Wildlife should be plentiful and the scenery simply stunning. After taking in the historic La Conner waterfront and the nearby tidelands, soaking in the views and the endless variety of shorebirds, we will journey through the wild tide currents of Deception Pass.
Back out on Strait of Juan de Fuca we will head south past Smith Island Marine Sanctuary – an island in the middle of the sea that is home to thousands of seabirds and mammals. Weather permitting, we expect to arrive in Port Townsend at 3pm.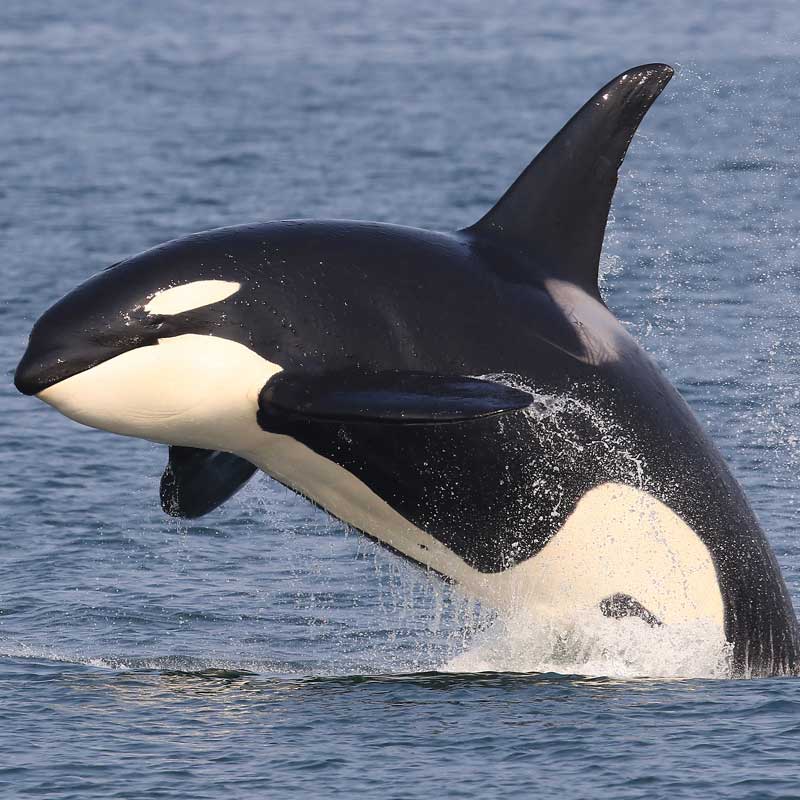 Bigg's Orcas (aka Transients)
Bigg's orcas are apex predators – mammal-eating orcas that feed on a variety of prey – from harbor seals to sea lions, and even dolphins and small whales. Bigg's orcas generally travel in small groups, usually of two to six animals, and can range from Southern California up to the Arctic circle. These are the orcas that we see most often in the Salish Sea, and they often put on quite a show after they complete a successful hunting foray! Bigg's orcas are named in honor of cetologist Michael Bigg.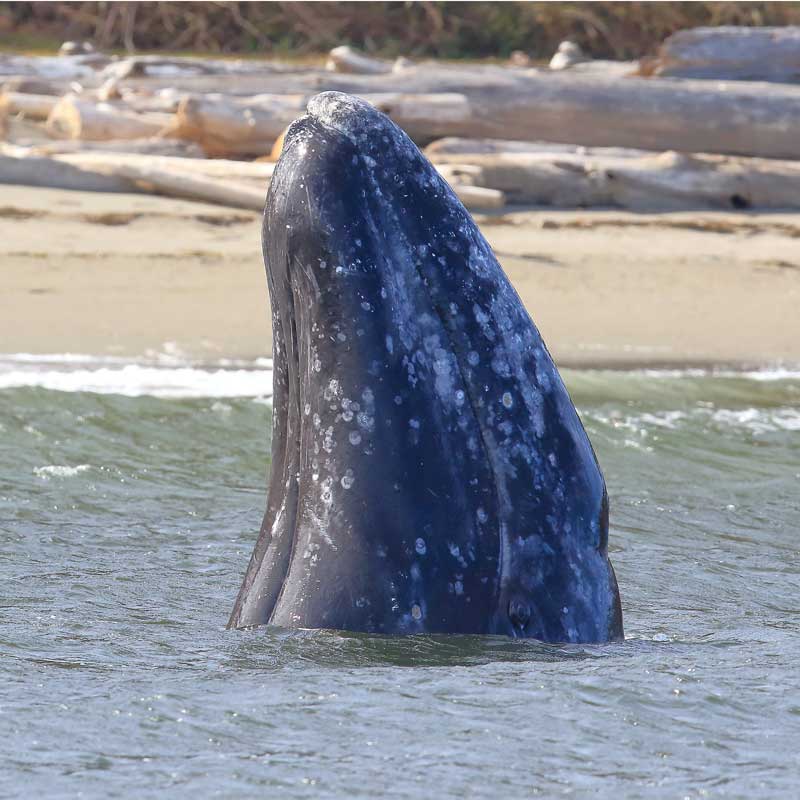 Gray Whales
The gray whale is a species of baleen whale, with a dark slate-gray color, and frequently covered by gray/white scars left by parasites which drop off in its cold feeding grounds. Grays have two blowholes on top of their head, which can create a distinctive heart-shaped blow at the surface. Adults range in length from 43–49 feet and weigh up to 40 tons. Each spring, gray whales migrate from the southern waters near Baja, north to Alaska. A small group of Grays nicknamed "Sounders" often turn east into Washington's inland waters during the spring northern migration.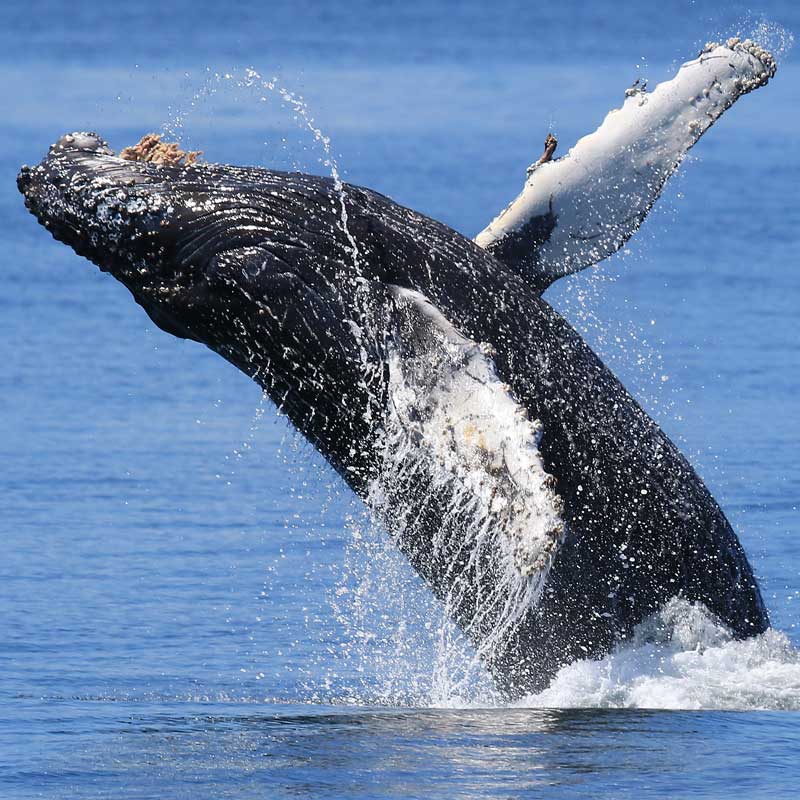 Humpback whales
The humpback whale is a species of baleen whale, and has a distinctive body shape, with long pectoral fins and a knobbly head. They are known for breaching and other distinctive surface behaviors. Adults range in length from 39–52 feet and weigh nearly 40 tons. Their diet consists mostly of krill and small fish.  Until commercial whaling was banned in 1996, humpbacks were nearly hunted to extinction. They have rebounded, however, and we are thrilled to have them back in our neighborhood.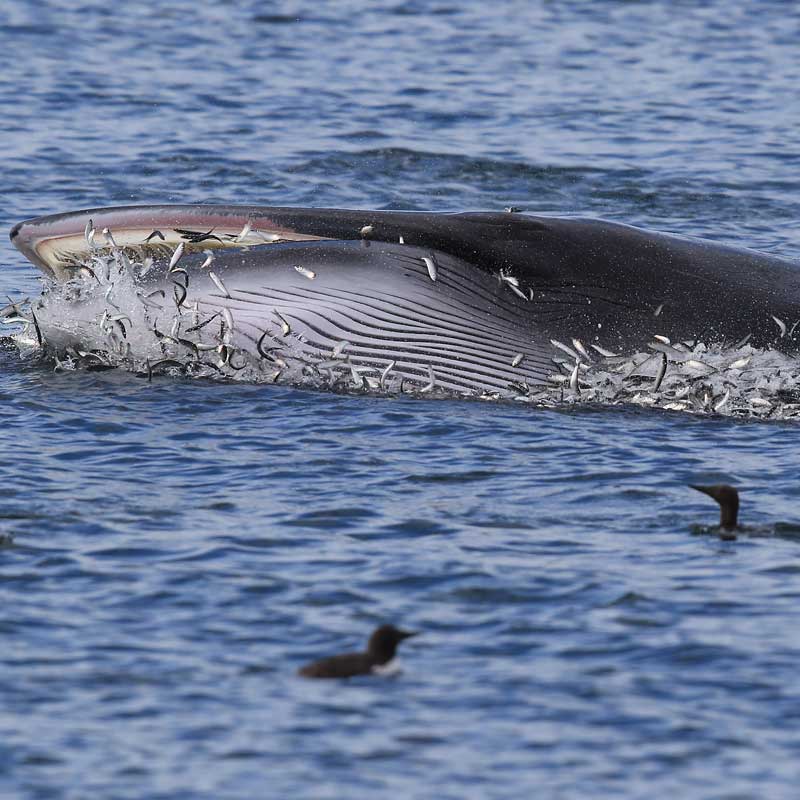 Minke whales
The elusive minke whale is among the smallest of the baleen whales. Previously known as a 'piked whale' or 'lesser finback', the minke has a dark gray back and white undersides. Their pectoral fins have a distinctive white patch or band. Minkes range in length from 23-33 feet and weigh up to 10 tons. Minke whales are widely distributed throughout the North Pacific and Atlantic oceans. They migrate seasonally from polar feeding grounds to equatorial waters, where they breed and calve. Minkes feed on small schooling fish, crustaceans, and plankton.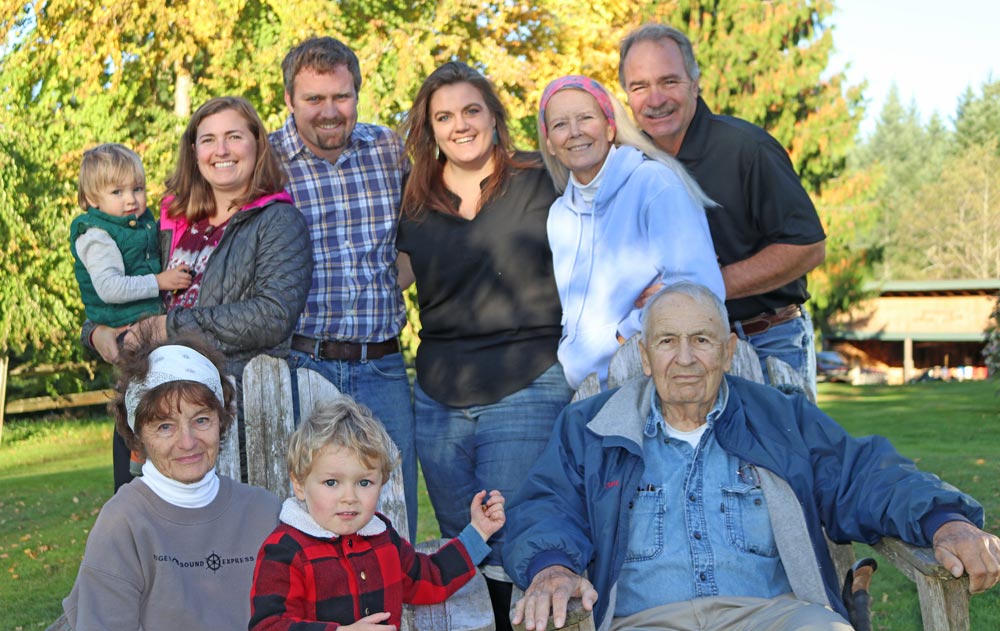 Three generations of our family have helped visitors have life-changing experiences with some of the most majestic creatures on the planet. We're blessed to live in what's been called "the American Serengeti," with some of the highest concentration of whales and dolphins and sea life anywhere in the world — including our totem species, the orca. Few people know these waters like we do. Our experience and dedication makes it possible for us to guarantee that you'll see whales on your trip — or we'll give you another trip absolutely free.
Whale-wise Whale Watching
Puget Sound Express is a proud member of the Pacific Whale Watch Association (PWWA), dedicated to responsible, sustainable marine wildlife viewing and conservation in the Pacific Northwest. We're also dedicated to reducing our footprint out there. The Saratoga and Swiftsure are sound-proofed, hydrofoil jet boats with no propellers, making them the quietest vessels in the whale watch fleet.
Learn about our practices and our conservation partners.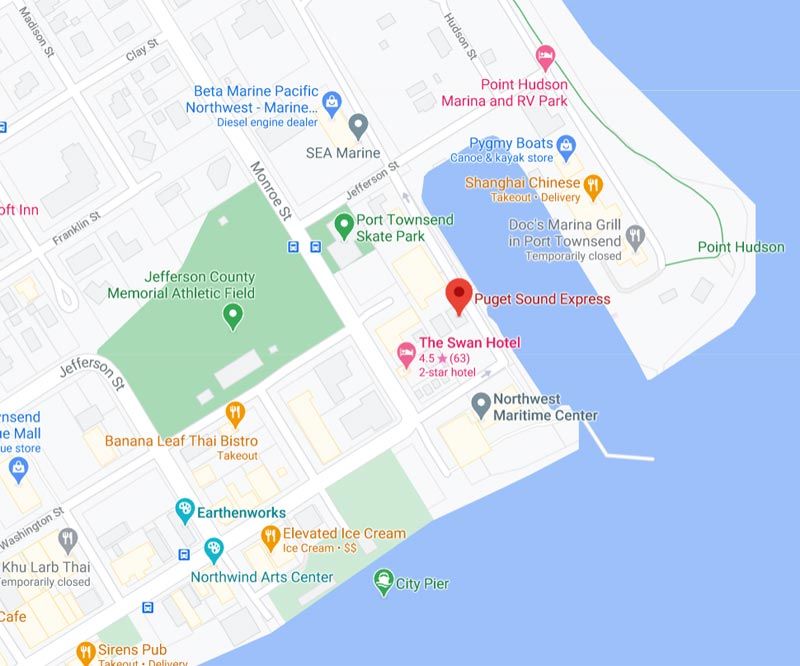 JULY & OCTOBER TOURS DEPART FROM
Port Townsend, WA
227 Jackson Street, Port Townsend, WA

We are located in downtown Port Townsend in the Point Hudson marina.
Checking-in
Passengers must be checked-in no later than 30 minutes prior to sailing. Boarding closes 15 minutes before departure. If you are traveling from out of the area please bear in mind that ferries and bridge openings can make the trip slightly longer than map and GPS software might indicate!
Changes/Cancellations
For multi-day excursions, any cancellation of a confirmed reservation 30 days prior to departure is fully-refundable, less a $10 cancellation fee. Inside of 30 days, there are no refunds available. (A tour reservation is considered confirmed once payment is processed OR you receive a confirmation email.)
Rescheduling
Outside of our 30 day cancellation policy rescheduling can be made and accommodated. Inside of 30 days, rescheduling can be requested and at the discretion of the office and our ability to re-sell. If approved a $10/person change fee is applied to the booking.
A Great Gift
Our 3-day cruise is a great opportunity to see what makes this part of the country so special. And it makes for one terrific anniversary experience!
Package Inclusions
Three days aboard Glacier Spirit
Breakfasts; Lunch aboard the vessel
Two nights accommodation at Earthbox Inn (July) / Roche Harbor Resort (October)
Parking
A free parking lot is available 2.5 blocks north of our office. Upon arrival, please stop at our office to unload luggage and pick up your parking permit. With permit in hand, continue driving past our office to the first STOP sign. Go STRAIGHT on the road and continue past all the vessels hauled out until you reach pavement again. At that point look for a Puget Sound Express parking sign or "event parking" on your right. Park anywhere in that lot that is not previously reserved.
Health & Safety Updates
Beginning March 12, 2022, masks are optional onboard PSE vessels.