Our Vessels
Puget Sound Express is proud to sail four of the finest whale watching boats in the Pacific Northwest.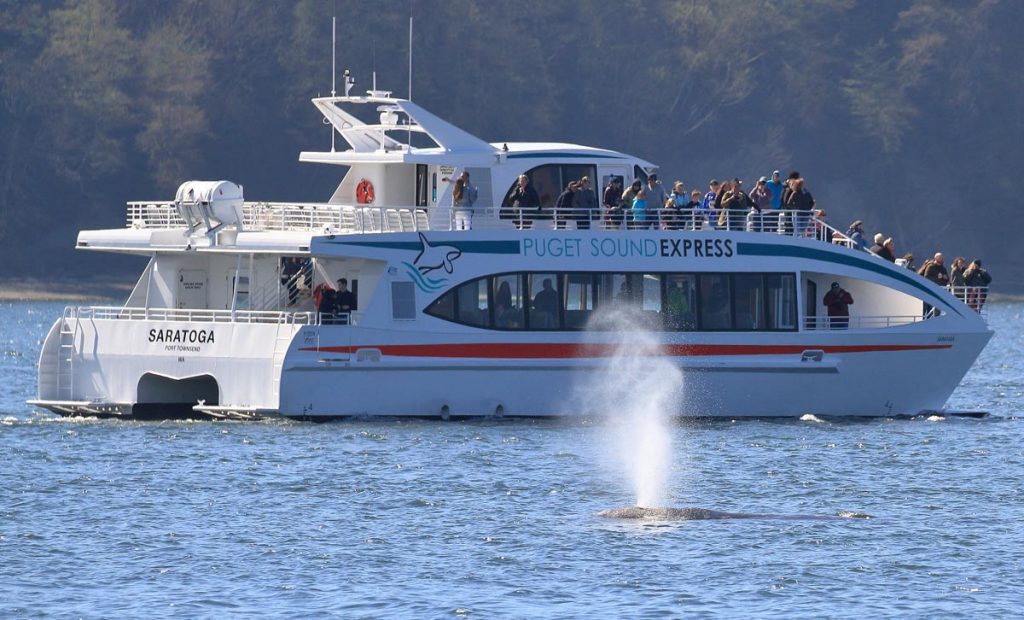 Built in 2018, the Saratoga is a catamaran with 2 asymmetrical semi-planing hulls, and an articulated hydrofoil that allows the boat to efficiently travel at 35 knots (40mph). This propeller-less design, coupled with finely-tuned, wave-piercing bows, allows the boat to travel through both calm and rough water at speed, while keeping underwater noise to a minimum. All 4 Scania D16 engines have waterlift mufflers, and carbon fiber driveshafts to save weight, and state of the art soundproofing to reduce noise. In addition to a wrap-around viewing deck, restrooms, and galley, the Saratoga is equipped with 7 HDTVs and a premium sound system with speakers inside and out, for whale watching naturalist presentations.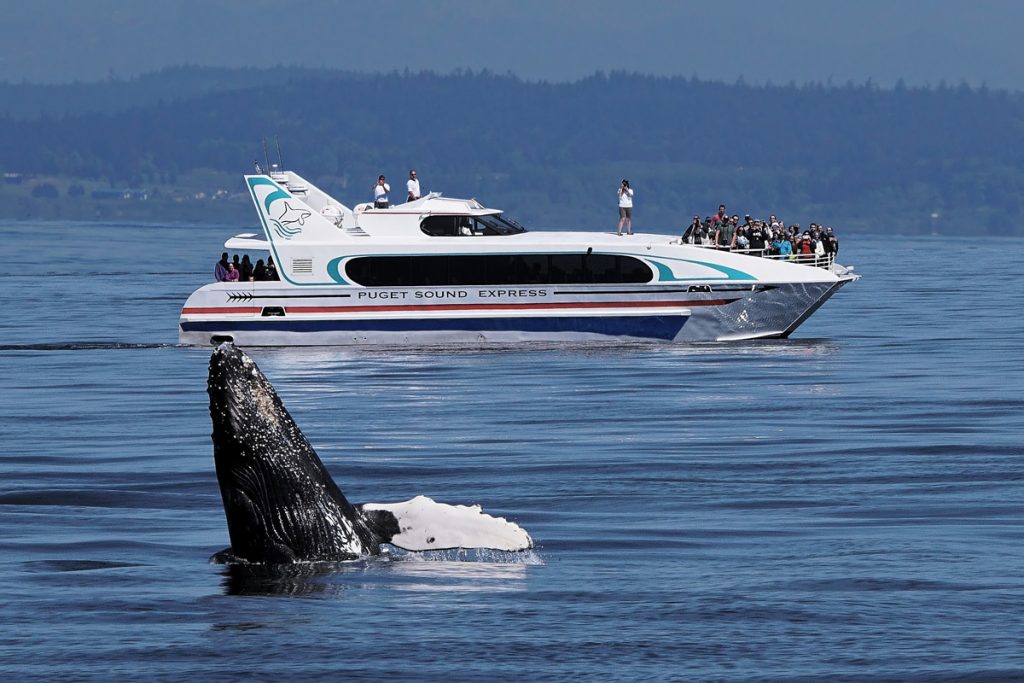 The Chilkat Express is a high speed, propeller-less foilcat, capable of cruising at speeds over 40 mph while significantly limiting underwater noise. Along with the Saratoga, the Chilkat is one of the fastest whale watching boats in the Northwest. It seats 60 passengers, and has fore and aft outdoor viewing platforms. Guests enjoy enjoy a snack bar, restrooms, and a hydrophone that will allow you to hear orcas talking underwater.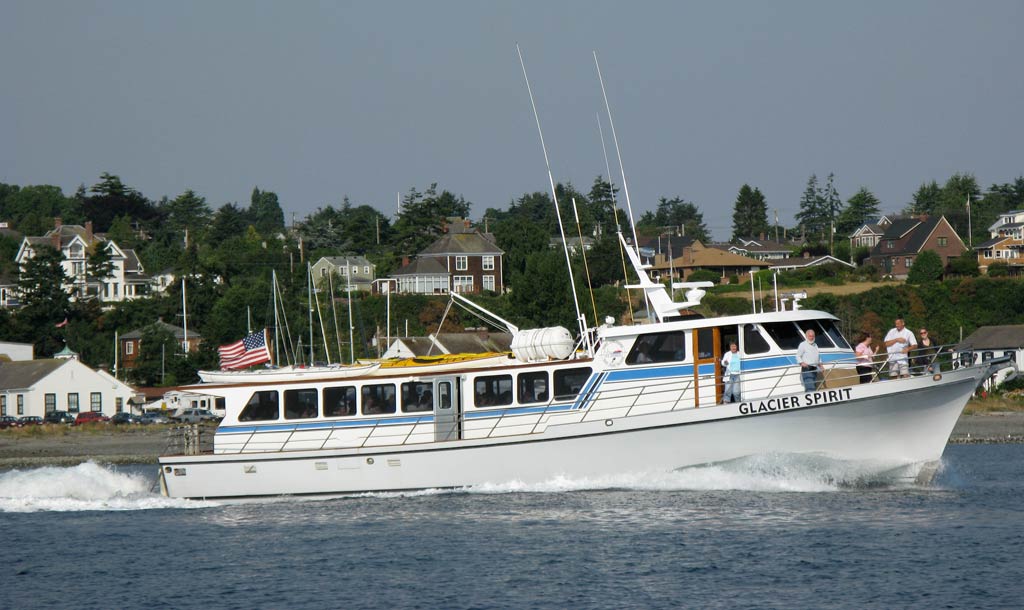 The Glacier Spirit is considered by many in the Pacific Northwest, the most beautiful and relaxing boat in the whale watch fleet. Passengers love the comfortable inside seating, and the large viewing windows. There is a snack bar, a full certified galley, two restrooms, and an outside viewing deck around the entire cabin. She is also equipped with fully modern navigation equipment and indoor and outdoor speakers.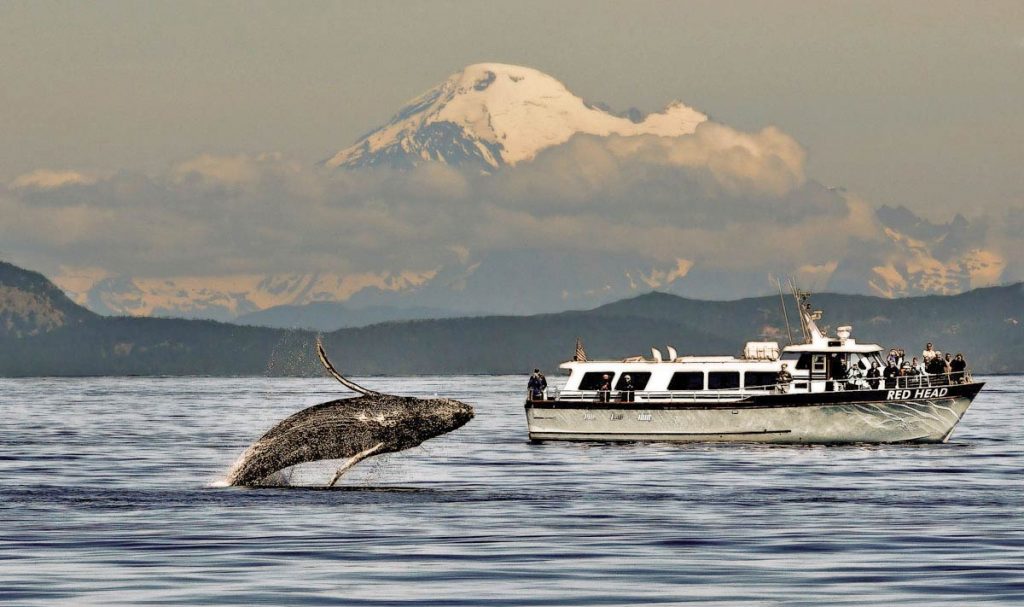 The Red Head is the little sister of the Glacier Spirit. She seats 40 quite comfortably, but is faster than the Glacier Spirit making it well suited for our 4 hour tours. Red Head has inside seating for everyone, large windows, full walk around deck, two restrooms, and a hydrophone. She is 56ft long and has two large Lugger diesels allowing her to cruise quietly at over 19 knots.
Health & Safety
Our family is committed to ensuring that your trip with us is as safe as possible.
Per State mandate, masks are required of ALL passengers while inside our boats, regardless of COVID-19 vaccination status.
COVID-19 vaccines are not required to join our tours, but we encourage all who are eligible to receive them.