Port Townsend - San Juan Island Passenger Ferry
The official Washington State passenger ferry route connects the Olympic Peninsula with San Juan Island.
2023 Ferry service
April 28 – September 24
Departs Port Townsend at 9am
Departs Friday Harbor between 1-3pm
(must call to confirm departure time)
One Way Fares
Adult: $55.50; Child (2-10): $35; Infants: FREE
Bicycle/Kayak: $15 each (sorry, no e-bikes allowed)
One-way tickets are valid for split day travel only (e.g. travel on Friday and return on Sunday). Cannot be used for round trip travel on the same calendar day. 
DURATION
Variable.  Departure time from Friday Harbor is variable each day, and ranges from 1-3pm. Guests are required to call our office by 12pm to find that day's exact departure time.
Travel between two of the Pacific Northwest's most iconic destinations! This official Washington state ferry route connects Port Townsend and Friday Harbor on San Juan Island.
Whale watching guarantee does not apply on one-way trips.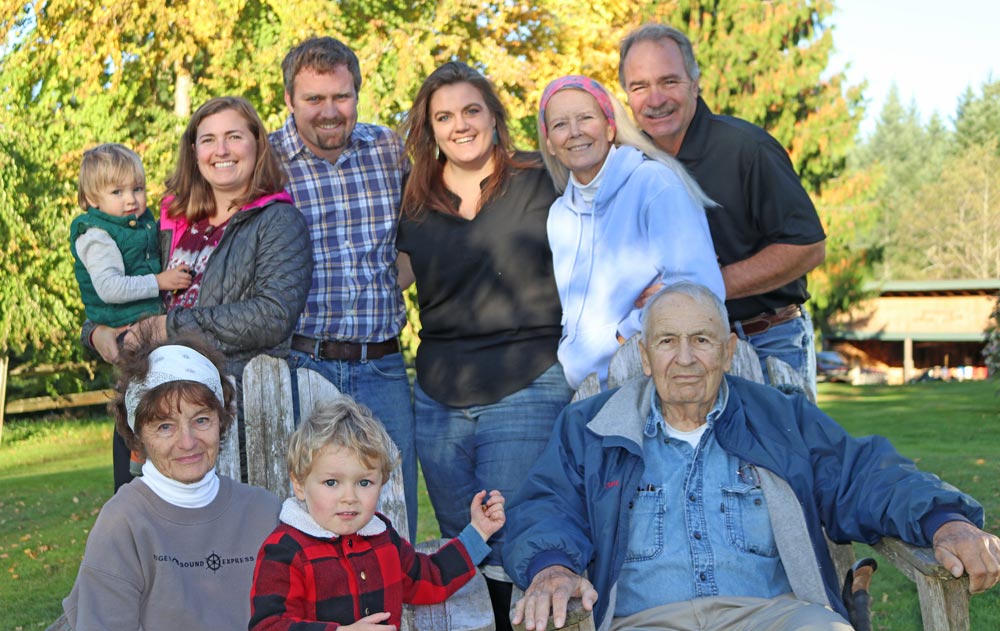 Three generations of our family have helped visitors have life-changing experiences with some of the most majestic creatures on the planet. We're blessed to live in what's been called "the American Serengeti," with some of the highest concentration of whales and dolphins and sea life anywhere in the world — including our totem species, the orca. Few people know these waters like we do. Enjoy and welcome to one of the Earth's magical places.
Whale-wise Whale Watching
Puget Sound Express is a proud member of the Pacific Whale Watch Association (PWWA), dedicated to responsible, sustainable marine wildlife viewing and conservation in the Pacific Northwest. We're also dedicated to reducing our footprint out there. The Saratoga and Swiftsure are sound-proofed, hydrofoil jet boats with no propellers, making them the quietest vessels in the whale watch fleet.
Learn about our practices and our conservation partners.
Port Townsend Departure Location
227 Jackson Street, Port Townsend, WA

We are located in downtown Port Townsend at the Point Hudson marina.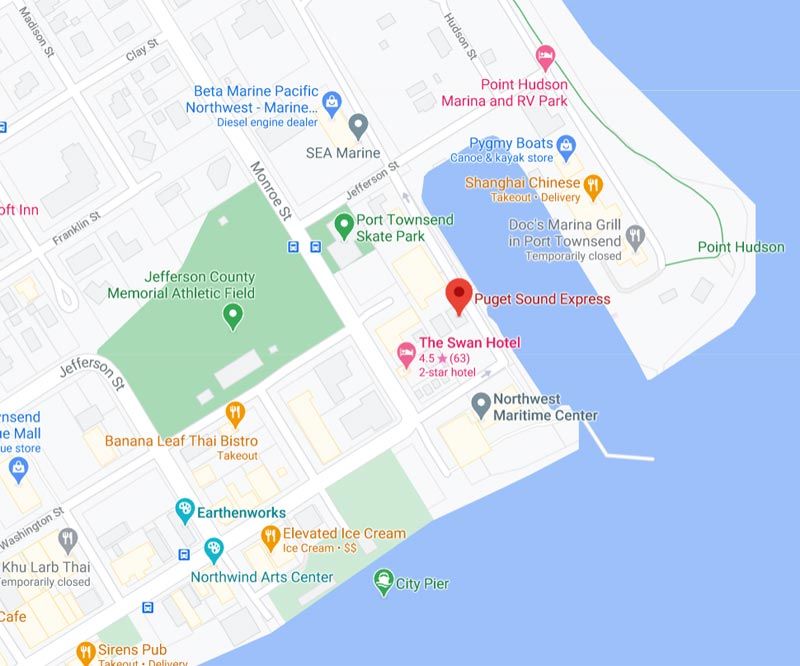 Checking-in (Port Townsend)
Passengers must be checked-in no later than 30 minutes prior to sailing. Boarding closes 15 minutes before departure. If you are traveling from out of the area please bear in mind that ferries and bridge openings can make the trip slightly longer than map and GPS software might indicate!
Friday Harbor Departure Location
Spring Street Landing, Friday Harbor, WA

Our boat docks at Spring Street Landing, the dock that is to the left of the WSF ferry terminal.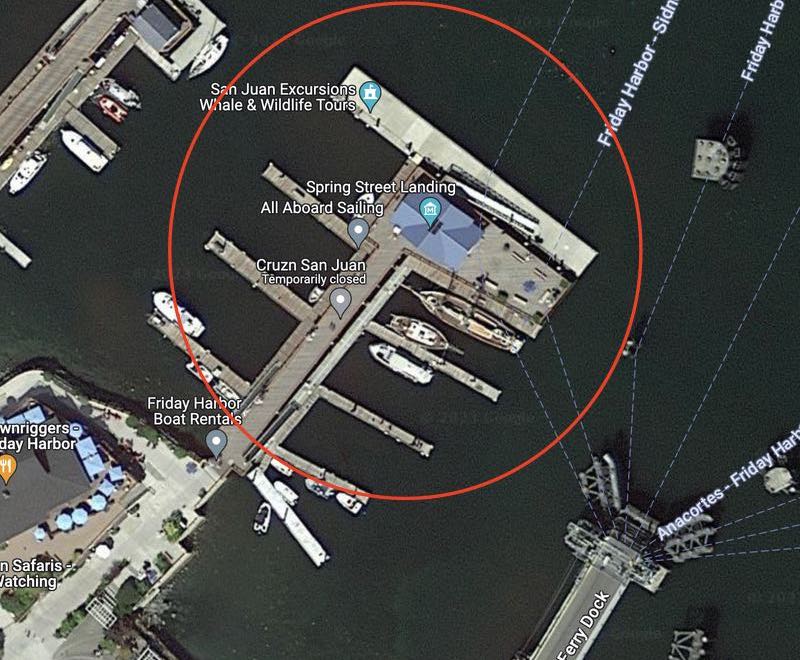 Checking-in (Friday Harbor)
Travelers must call our office (360-385-5288) no later than 12:30pm to find that day's exact departure time, and be at the dock no later than 15 minutes before departure. Due to stringent departure requirements, late arrivals will be cancelled with no refunds.
Changes/Cancellations
Our cancellation policy is 48 hours prior to a tour's departure time. A tour is confirmed when a confirmation email has been received OR payment has been processed. Prior to 48 hours from departure, any cancellation of a confirmed reservation is fully refundable, less a $10 processing fee. Inside of 48 hours to departure, reservations are non-refundable. This includes all tours booked online within 48 hours of departure.
Rescheduling
Outside of 48 hours from the tour, rescheduling can be made at any time.  Inside of 48 hours to the tour, rescheduling can be requested and at the discretion of the office and upcoming availability to approve. If approved a $10/person change fee is charged to the booking.
Motion Sickness
The waterways we travel on are relatively calm, and our boats are quite stable and comfortable. However if you are prone to motion sickness we strongly recommend preparing for your trip with us. Over the counter remedies like Dramamine work best when used prior to departure. Learn more.
Are you traveling with an infant?
Children under the age of 2 can travel for free; however, if the boat is full that day, your child will be required to sit on your lap. You also have the option of purchasing a child's rate ticket to ensure seating for your infant.
Parking
A free parking lot is available 2.5 blocks north of our office. Continue past our office to the first STOP sign. Go STRAIGHT on the road and continue past all the vessels hauled out until you reach pavement again. At that point look for a Puget Sound Express parking sign or "event parking" on your right. Park anywhere in that lot that is not previously reserved. At check-in please let our staff know you are parked in the back lot – we will give you a permit that you are required to display in your vehicle.