Port Townsend - San Juan Island Whale Watching Tour
Guaranteed whale watching with a two-hour lunch stop in Friday Harbor, on San Juan Island. This daylong tour is our signature tour – the one that started it all!
2023 Tours
April 28 – September 24
9am daily departures
Round Trip Fares
Adult: $155; Child (2-10): $115; Infants: FREE
DURATION
Average tour time = 8 hours, including a two-hour lunch stop in Friday Harbor, San Juan Island.
One Way Fares
Visit our Passenger Ferry page to book one-way fares. (Note whale watching guarantee does not apply on one-way trips.)
Amazing Value
This tour is the perfect combination of wildlife, and scenery – a true day trip adventure! Our 8 hour whale watching cruise in the San Juan Islands is also the official passenger ferry route between Port Townsend and Friday Harbor. We are the only company on the Olympic Peninsula that offers a guaranteed whale watching with a port of call on San Juan Island. 
Heading to San Juan Island for a kayak or bike adventure? No problem. We are happy to transport your kayak or bike on the boat for a small fee.
Great Experience!
So much fun, and the guides were great. I recommend this trip and the time at Friday Harbor. Exploring the harbor once there was great. [The trip is] great for people of all ages. We were able to see lots of wildlife including orcas and a humpback whale, which breached…
Comfort
Our vessels feature comfortable indoor seating for everyone, a wrap-around outside viewing deck, as well as a snack bar and restroom. Don't miss our signature, freshly-baked "blueberry buckle!" Along with viewing whales, we often find bald eagles, harbor seals, California and Steller sea lions, tufted puffins and many other species of marine life. Our trained naturalist guides you through the many sites along the way, and if the whales are "talking," you'll be able to hear them on our hydrophone.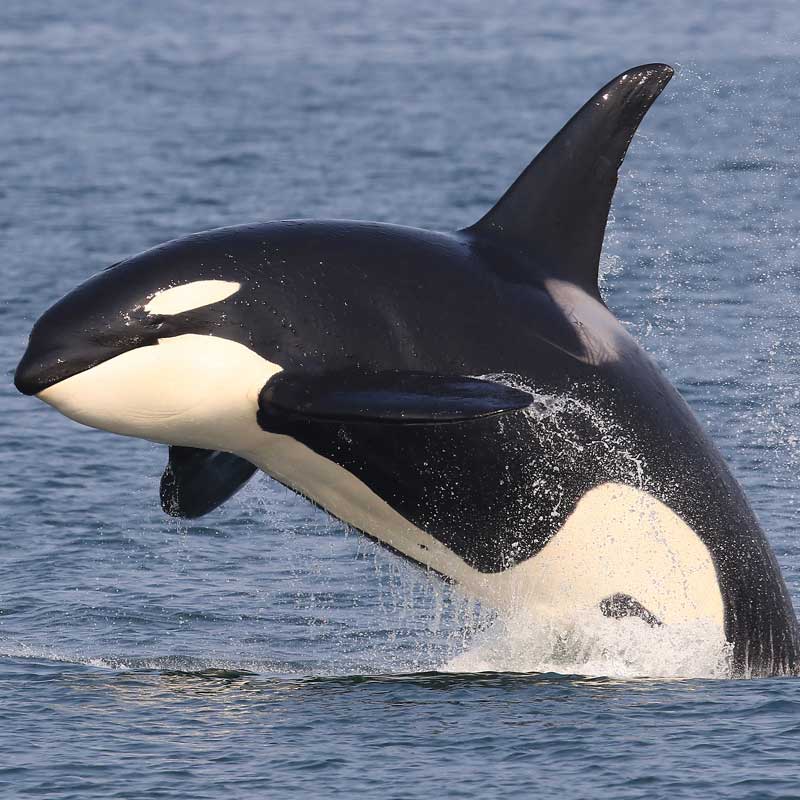 Bigg's Orcas (aka Transients)
Bigg's orcas are apex predators – mammal-eating orcas that feed on a variety of prey – from harbor seals to sea lions, and even dolphins and small whales. Bigg's orcas generally travel in small groups, usually of two to six animals, and can range from Southern California up to the Arctic circle. These are the orcas that we see most often in the Salish Sea, and they often put on quite a show after they complete a successful hunting foray! Bigg's orcas are named in honor of cetologist Michael Bigg.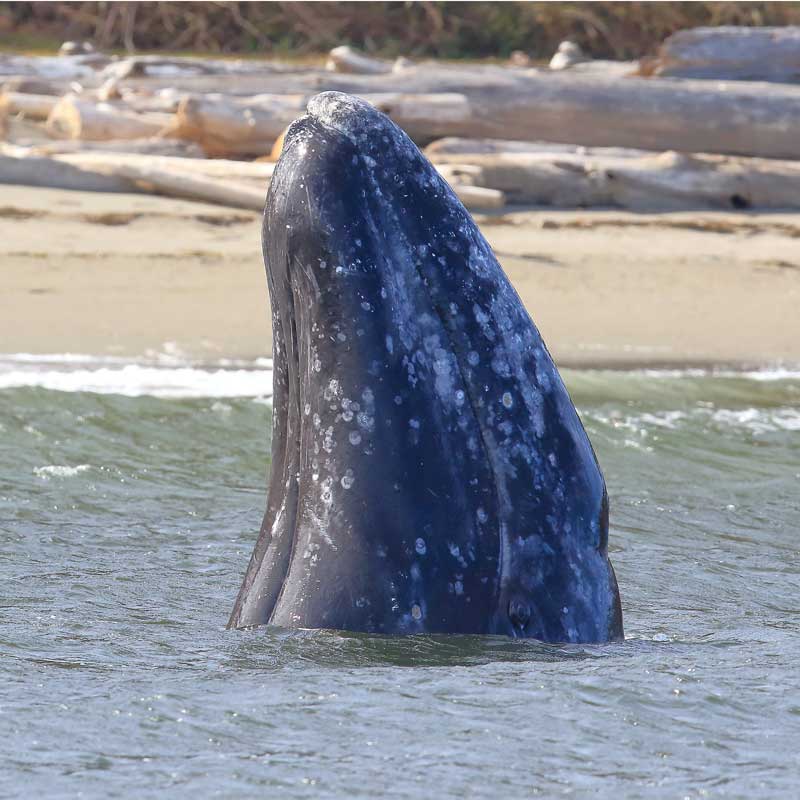 Gray Whales
The gray whale is a species of baleen whale, with a dark slate-gray color, and frequently covered by gray/white scars left by parasites which drop off in its cold feeding grounds. Grays have two blowholes on top of their head, which can create a distinctive heart-shaped blow at the surface. Adults range in length from 43–49 feet and weigh up to 40 tons. Each spring, gray whales migrate from the southern waters near Baja, north to Alaska. A small group of Grays nicknamed "Sounders" often turn east into Washington's inland waters during the spring northern migration.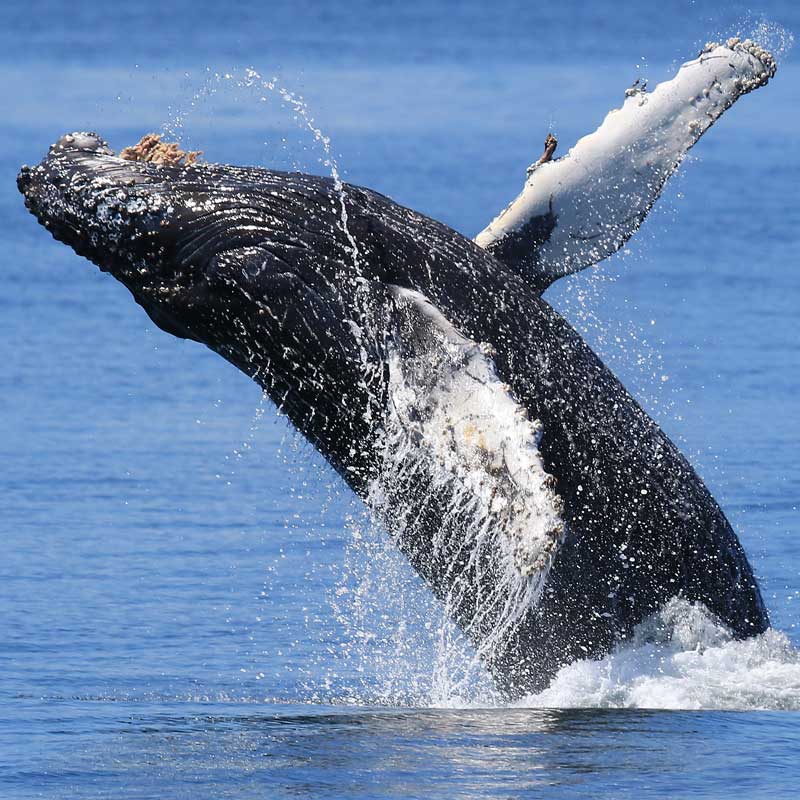 Humpback whales
The humpback whale is a species of baleen whale, and has a distinctive body shape, with long pectoral fins and a knobbly head. They are known for breaching and other distinctive surface behaviors. Adults range in length from 39–52 feet and weigh nearly 40 tons. Their diet consists mostly of krill and small fish.  Until commercial whaling was banned in 1996, humpbacks were nearly hunted to extinction. They have rebounded, however, and we are thrilled to have them back in our neighborhood.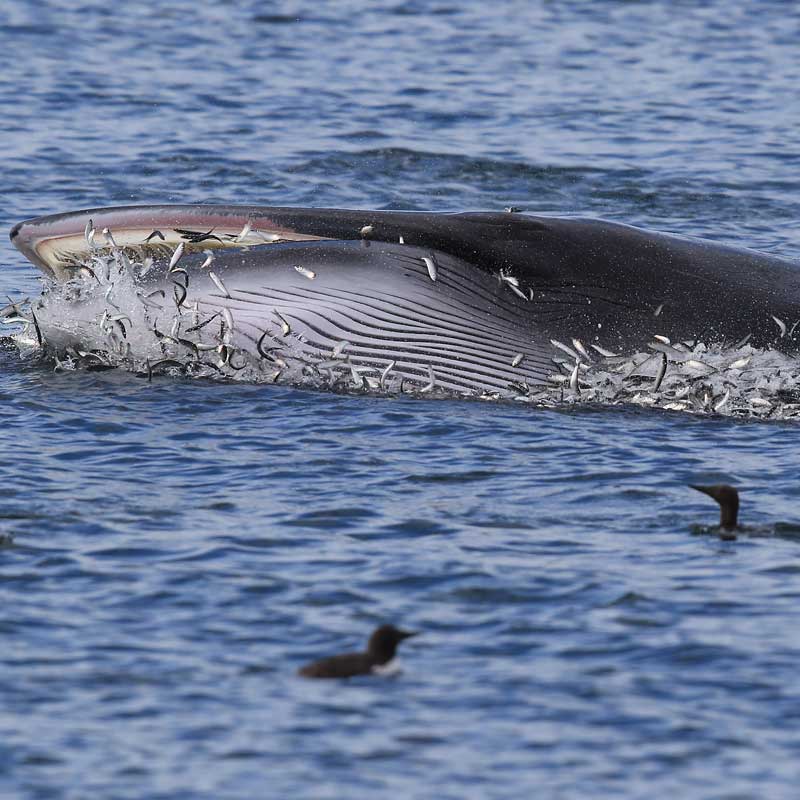 Minke whales
The elusive minke whale is among the smallest of the baleen whales. Previously known as a 'piked whale' or 'lesser finback', the minke has a dark gray back and white undersides. Their pectoral fins have a distinctive white patch or band. Minkes range in length from 23-33 feet and weigh up to 10 tons. Minke whales are widely distributed throughout the North Pacific and Atlantic oceans. They migrate seasonally from polar feeding grounds to equatorial waters, where they breed and calve. Minkes feed on small schooling fish, crustaceans, and plankton.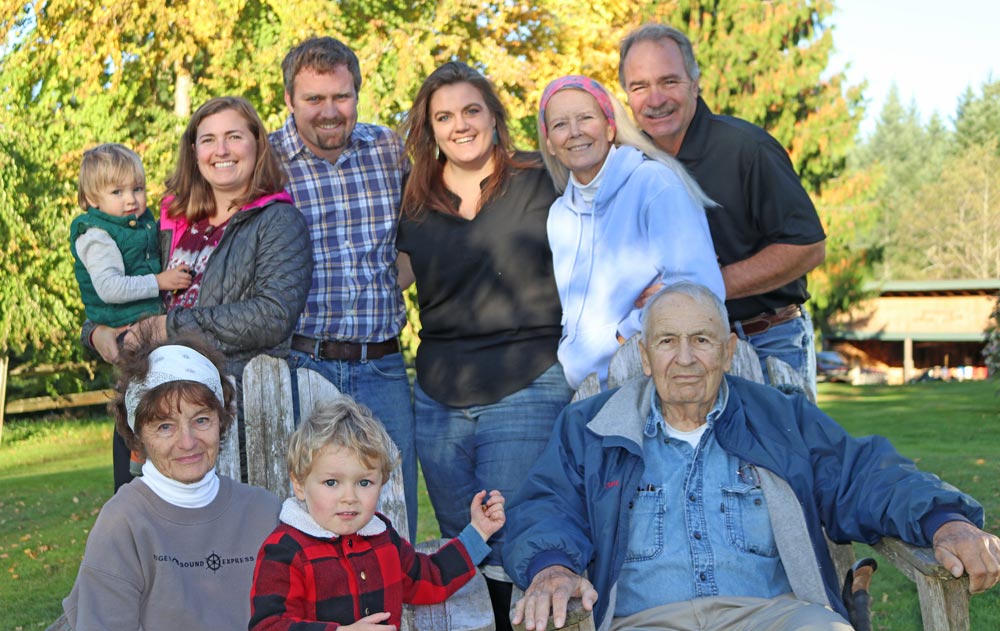 Three generations of our family have helped visitors have life-changing experiences with some of the most majestic creatures on the planet. We're blessed to live in what's been called "the American Serengeti," with some of the highest concentration of whales and dolphins and sea life anywhere in the world — including our totem species, the orca. Few people know these waters like we do. Our experience and dedication makes it possible for us to guarantee that you'll see whales on your trip — or we'll give you another trip absolutely free.
Whale-wise Whale Watching
Puget Sound Express is a proud member of the Pacific Whale Watch Association (PWWA), dedicated to responsible, sustainable marine wildlife viewing and conservation in the Pacific Northwest. We're also dedicated to reducing our footprint out there. The Saratoga and Swiftsure are sound-proofed, hydrofoil jet boats with no propellers, making them the quietest vessels in the whale watch fleet.
Learn about our practices and our conservation partners.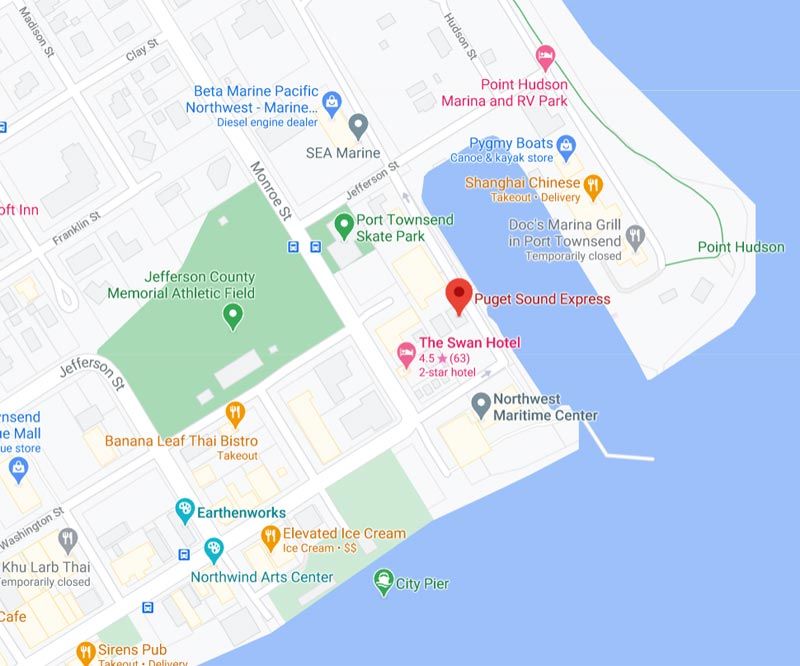 Where do Port Townsend tours depart from?
227 Jackson Street, Port Townsend, WA

We are located in downtown Port Townsend at the Point Hudson marina.
Checking-in
Passengers must be checked-in no later than 30 minutes prior to sailing. Boarding closes 15 minutes before departure. If you are traveling from out of the area please bear in mind that ferries and bridge openings can make the trip slightly longer than map and GPS software might indicate!
Are you traveling with an infant?
Children under the age of 2 can travel for free; however, if the boat is full that day, your child will be required to sit on your lap. You also have the option of purchasing a child's rate ticket to ensure seating for your infant.
Changes/Cancellations
Our cancellation policy is 48 hours prior to a tour's departure time. A tour is confirmed when a confirmation email has been received OR payment has been processed. Prior to 48 hours from departure, any cancellation of a confirmed reservation is fully refundable, less a $10 processing fee. Inside of 48 hours to departure, reservations are non-refundable. This includes all tours booked online within 48 hours of departure.
Rescheduling
Outside of 48 hours from the tour, rescheduling can be made at any time.  Inside of 48 hours to the tour, rescheduling can be requested and at the discretion of the office and upcoming availability to approve. If approved a $10/person change fee is charged to the booking.
Motion Sickness
The waterways we travel on are relatively calm, and our boats are quite stable and comfortable. However if you are prone to motion sickness we strongly recommend preparing for your trip with us. Over the counter remedies like Dramamine work best when used prior to departure. Learn more.
We Guarantee You'll See Whales
The Salish Sea is home to an astonishing variety of whales, including orcas, humpbacks, gray whales, and minke whales. With thousands of departures over 37 years, our local knowledge is unmatched. As a result, our success rate is the best in the industry. If you don't see whales on your whale watching tour, we will gladly give you a voucher for a cruise on a later date – no questions, no hassles. Guarantee is not valid for split trips, specific whale species, or cash back.
Parking
Limited parking is available next to our office in a paid lot. It is $10/day and there is a cash box (old school) at the entrance to the parking lot. Park in a numbered spot and put your cash in the number you parked at for the day. The spot is available all day and night so feel free to leave your car there after the tour to go shopping or out to lunch/dinner. There are only 11 of these spots available, so these fill up fast.
A free parking lot is available 2.5 blocks north of our office. As you drive by the office, feel free to pull over, let families, children or elderly out to wait while the driver parks the vehicle. They can also check in while the driver is parking. Continue past our office to the first STOP sign. Go STRAIGHT on the road and continue past all the vessels hauled out until you reach pavement again. At that point look for a Puget Sound Express parking sign or "event parking" on your right. Park anywhere in that lot that is not previously reserved.