Its not everyday we get visited by what are known as "Exotic" transient (Bigg's) killer whales/orcas. The exotics are those that often have only been seen once and, sometimes, not for many years.
On June 27, 2018, Captain Christopher was surprised when he found a pod on our way home near Smith Island in the eastern Strait of Juan de Fuca! ! No one else had seen them and there were no other boats around because there were whales in a lot of different places that day. We ourselves, were just coming back from the San Juans.
PSE naturalists Renee Beitzel and Bart Rulon were onboard and took many photos but these animals were difficult to track and very difficult to ID. Killer whales/orcas can be identified by the unique shape of their dorsal fin as well as their saddle patch, as no two are alike. Though the actual ID was unknown until the way home, they knew these whales were exotics by not being able to recognize them as well as their narrow saddle patches, which often can be seen in transients that are normally found along the coast of California.
On the ride home, Renee and Bart got to work and were able to ID this group as T175 (the big guy), T173 and T176, among others. They had later been reportedly traveling with the T99's who are some of our "regulars".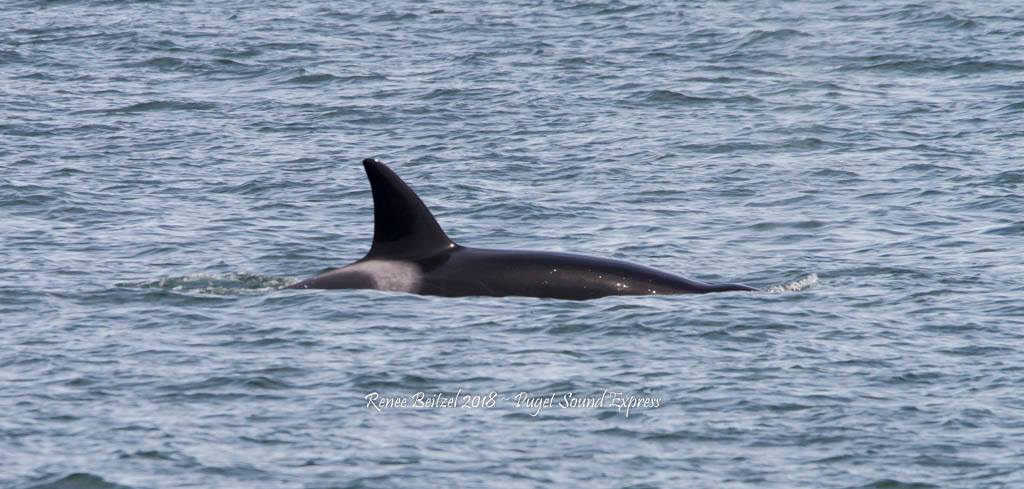 Center for Whale Research was notified by Capt Christopher and we were informed that the last time this group was seen in the inland waters of the Salish Sea, was in 2012! CWR was able to get out to see them the next day and document them. The group stuck around for several days but not before heading north and meeting up with some other pods.