Seattle & Port Townsend Gray Whale Tours
See majestic gray whales as they migrate from the southern waters north to Alaska. In February, March and April they pass through the Strait of Juan de Fuca and Puget Sound.
2024 Seattle/Edmonds Tours
February 14 – 28
11:30am departures on Wed/Fri/Sat
March 1 – April 25
11:30am daily departures

2024 Port Townsend Tours
March 9 – April 25
12pm departures on Mon/Wed/Fri/Sat/Sun
TRIP FARES
Adult: $95 Child (2-10): $75 Infants: Free
DURATION
Seattle tours last 2.5 hours; Port Townsend tours 4 hours. Our vessels feature an inside heated cabin, TV monitors for naturalist presentations and map tracking the areas we travel through, restrooms and a galley serving snacks, hot and cold beverages, along with our warm Blueberry Buckle.
We most frequently see gray whales in waters that are protected and usually quite calm.
We most often sail the Swiftsure (Edmonds), Saratoga, and Red Head (Port Townsend) for these tours.
Convenience
We offer two departure points to see grays – Seattle/Edmonds and Port Townsend on the Olympic Peninsula. Our vessels are the most comfortable whale watching boats in the Northwest. Combined with three generations of dedication and experience connecting visitors with the great outdoors, we guarantee you'll see whales or your next trip is free!
Highly Recommend!
We saw many whales and the boat and staff could not have been nicer. It was the perfect amount of time for an 11 and 14 year old on the half-day trip from Edmonds. The entire boat was very comfortable and clean. Very memorable and the favorite part of our Seattle family trip
Grays
The annual gray whale migration from the Baja Peninsula to the Bering Sea is a challenging, 10,000 mile journey for these great creatures. We're fortunate that the whales make a detour from their off-shore journey to join us in March and April to feed on the ghost shrimp found here, and build up their fat stores for the remainder of their journey to Alaska.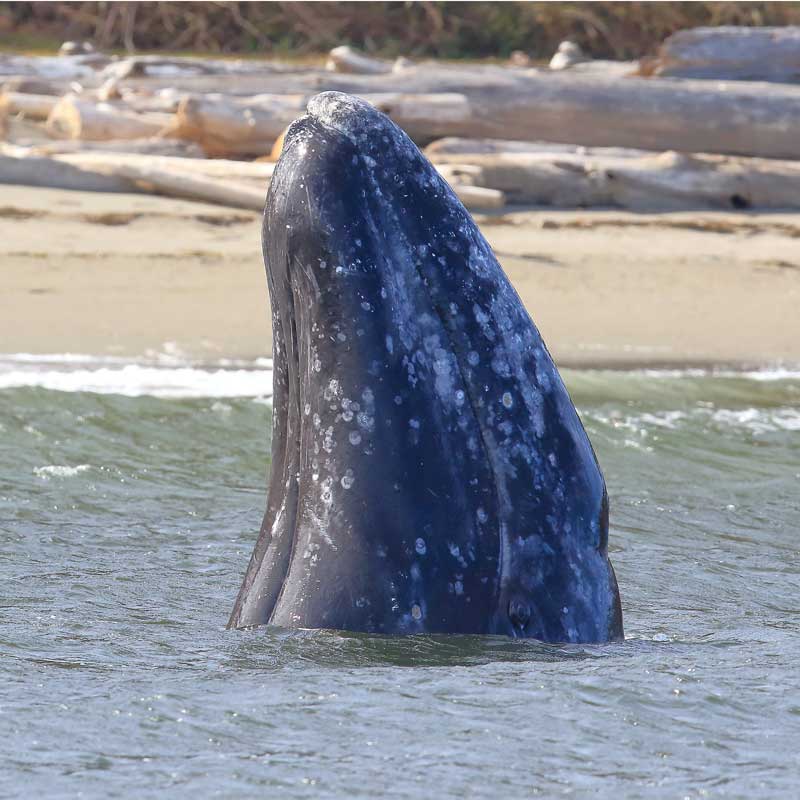 Gray Whales
The gray whale is a species of baleen whale, with a dark slate-gray color, and frequently covered by gray/white scars left by parasites which drop off in its cold feeding grounds. Grays have two blowholes on top of their head, which can create a distinctive heart-shaped blow at the surface. Adults range in length from 43–49 feet and weigh up to 40 tons. Each spring, gray whales migrate from the southern waters near Baja, north to Alaska. A small group of Grays nicknamed "Sounders" often turn east into Washington's inland waters during the spring northern migration.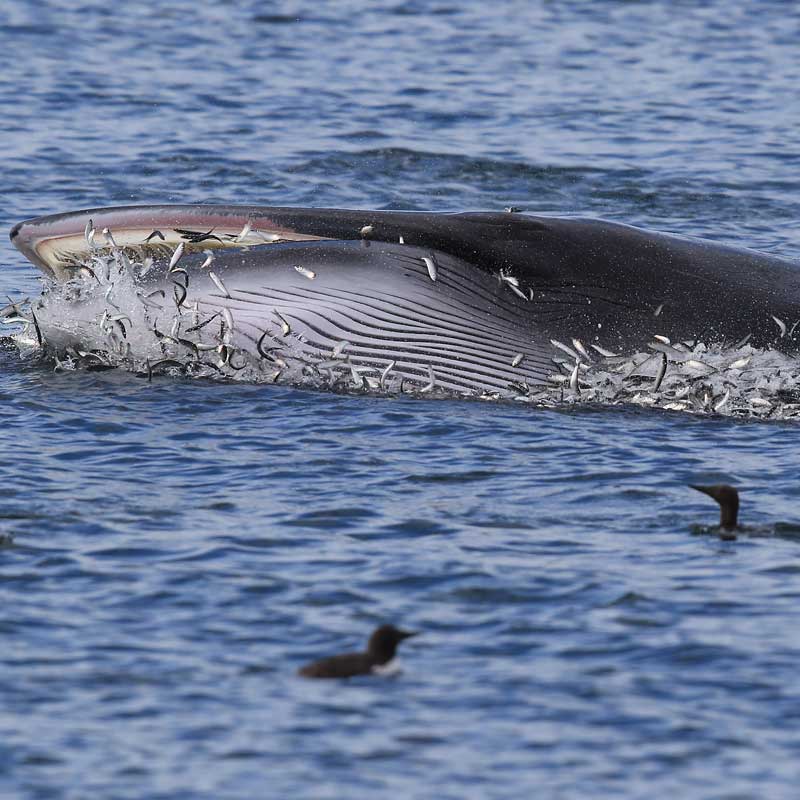 Minke whales
The elusive minke whale is among the smallest of the baleen whales. Previously known as a 'piked whale' or 'lesser finback', the minke has a dark gray back and white undersides. Their pectoral fins have a distinctive white patch or band. Minkes range in length from 23-33 feet and weigh up to 10 tons. Minke whales are widely distributed throughout the North Pacific and Atlantic oceans. They migrate seasonally from polar feeding grounds to equatorial waters, where they breed and calve. Minkes feed on small schooling fish, crustaceans, and plankton.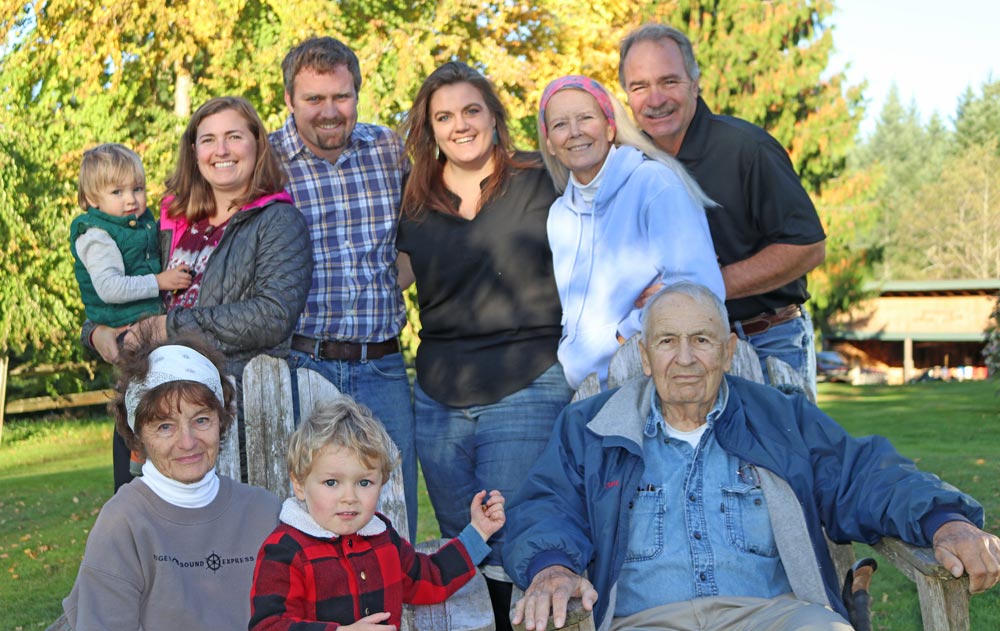 Three generations of our family have helped visitors have life-changing experiences with some of the most majestic creatures on the planet. We're blessed to live in what's been called "the American Serengeti," with some of the highest concentration of whales and dolphins and sea life anywhere in the world — including our totem species, the orca. Few people know these waters like we do. Our experience and dedication makes it possible for us to guarantee that you'll see whales on your trip — or we'll give you another trip absolutely free.
Whale-wise Whale Watching
Puget Sound Express is a proud member of the Pacific Whale Watch Association (PWWA), dedicated to responsible, sustainable marine wildlife viewing and conservation in the Pacific Northwest. We're also dedicated to reducing our footprint out there. The Saratoga and Swiftsure are sound-proofed, hydrofoil jet boats with no propellers, making them the quietest vessels in the whale watch fleet.
Learn about our practices and our conservation partners.
Port Townsend Departures
227 Jackson Street, Port Townsend, WA

We are located in downtown Port Townsend in the Point Hudson Marina.
Limited parking is available next to our office in a paid lot. A free parking lot is available 2.5 blocks north of our office. Continue past out office to the first STOP sign. Go STRAIGHT on the road and continue past all the vessels hauled out until you reach pavement again. At that point look for a Puget Sound Express parking sign or "event parking" on your right. Park anywhere in that lot that is not reserved.
Seattle/Edmonds Departures
459 Admiral Way, Edmonds, WA
We are located at the Port of Edmonds, across the street from Anthony's Homeport Restaurant in parking lot 8 – look for "Whale Watching, Check In Here."
Parking is available at the Port of Edmonds; all spaces within the Port require a parking permit. Permits are $15.00 and can be purchased when making your reservation or when you check-in. Purchased parking permits are handed to you at check-in to be placed in your vehicle window.
Check-in and boarding
Travelers are required to be checked-in no later than 30 minutes prior to sailing. Boarding closes 15 minutes before departure. If guests are not checked in by this time, tickets will be cancelled with no refund or ability to reschedule.
Puget Sound Express is not responsible for traffic, ferry disruptions, or bridge closures. Please ensure enough travel time to account for the unexpected.
Changes/Cancellations
Our cancellation policy is 48 hours prior to a tour's departure time. A tour is confirmed when a confirmation email has been received OR payment has been processed. Prior to 48 hours from departure, any cancellation of a confirmed reservation is fully refundable, less a $10 processing fee. Inside of 48 hours to departure, reservations are non-refundable. This includes all tours booked online within 48 hours of departure.
Motion Sickness
The waterways we travel on are relatively calm, and our boats are quite stable and comfortable. However if you are prone to motion sickness we strongly recommend preparing for your trip with us. Over the counter remedies like Dramamine work best when used prior to departure. Learn more.
We Guarantee You'll See Whales
The Salish Sea is home to an astonishing variety of whales, including orcas, humpbacks, gray whales, and minke whales. With thousands of departures over 37 years, our local knowledge is unmatched. As a result, our success rate is the best in the industry. If you don't see whales on your whale watching tour, we will gladly give you a voucher for a cruise on a later date – no questions, no hassles. Guarantee is not valid for split trips, specific whale species, or cash back.
Are you traveling with an infant?
Children under the age of 2 can travel for free; however, if the boat is full that day, your child will be required to sit on your lap. You also have the option of purchasing a child's rate ticket to ensure seating for your infant.
Rescheduling
Outside of 48 hours from the tour, rescheduling can be made at any time. Inside of 48 hours to the tour, rescheduling can be requested and at the discretion of the office and upcoming availability to approve. If approved a $10/person change fee is charged to the booking.