Puget Sound Bird Fest Cruise
Join us for a special birdwatching experience during Bird Fest!
2023 Tour
September 10
3pm departure
TRIP FARE
$95
DURATION
The Puget Sound Bird Fest – in collaboration with Puget Sound Express – hosts a special birdwatching cruise on Sunday, September 10. The cruise will run 3-6pm to get the optimal viewing of sea birds returning to their nests.
The three-hour cruise departs from the Edmonds Marina. Volunteer Bird Guides from the Puget Sound Bird Fest will be on board to share their knowledge about the birds and nature of Puget Sound. We will be using our newest high-speed vessel Swiftsure to travel to either Smith Island or Protection Island (depending on weather and recent sightings of birds), before returning to Edmonds. On-board we have inside seating, a snack bar and 3 restrooms available.
Note: Any change in the itinerary for weather is at the Captain's discretion.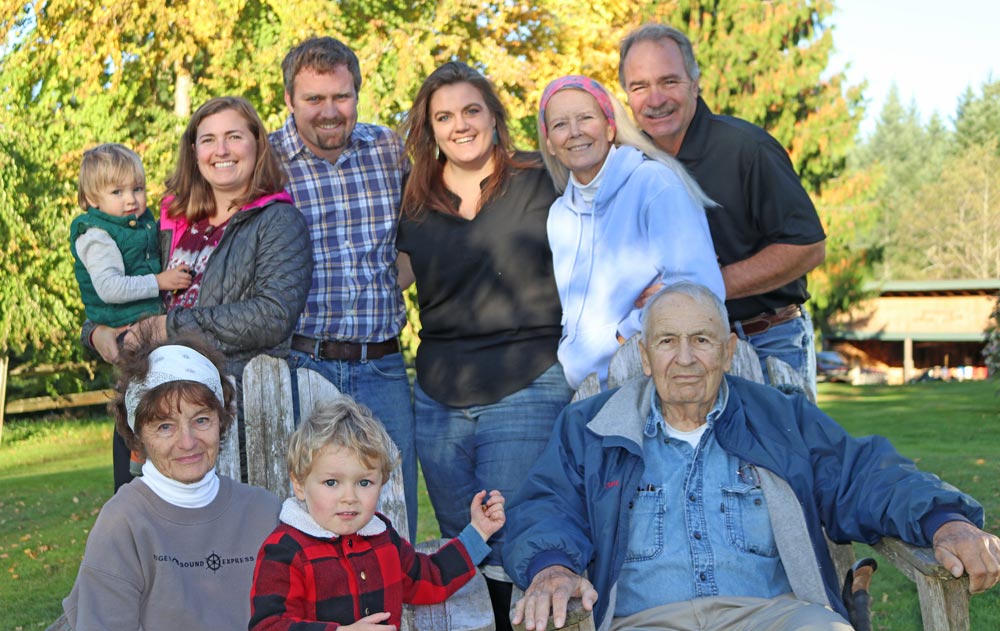 Three generations of our family have helped visitors have life-changing experiences with some of the most majestic creatures on the planet. We're blessed to live in what's been called "the American Serengeti," with some of the highest concentration of whales and dolphins and sea life anywhere in the world — including our totem species, the orca. Few people know these waters like we do. Our experience and dedication makes it possible for us to guarantee that you'll see whales on your trip — or we'll give you another trip absolutely free.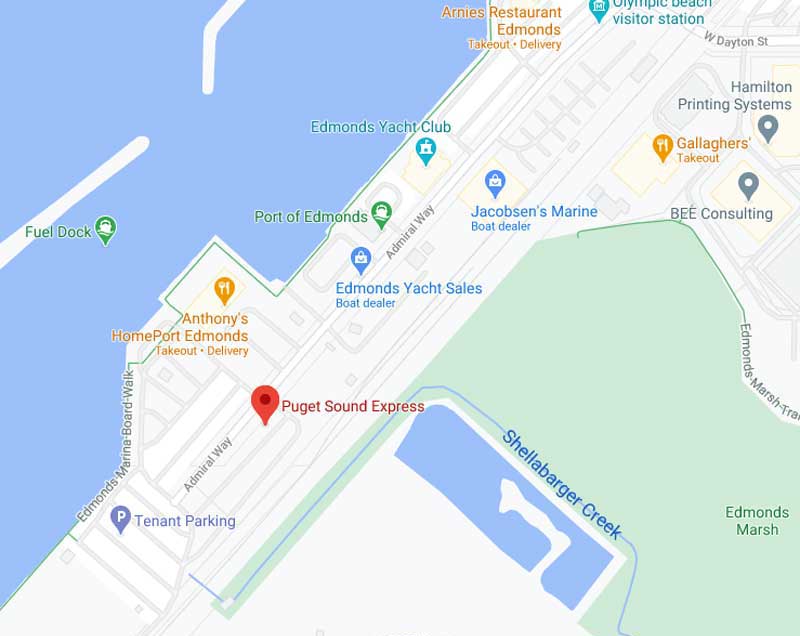 Where do Edmonds tours depart from?
459 Admiral Way, Edmonds, WA
We are located at the Port of Edmonds, across the street from Anthony's Homeport Restaurant in parking lot 8 – look for "Whale Watching, Check In Here."
Parking is available at the Port of Edmonds, however due to a strict 3 hour limit on all spaces within the port a parking permit is required. Permits are $15.00 and can be purchased at check in or when making a reservation. Permits are provided at check in to be placed in your window.
Check-in and boarding
Travelers are required to be checked-in no later than 30 minutes prior to sailing. Boarding closes 15 minutes before departure. If guests are not checked in by this time, tickets will be cancelled with no refund or ability to reschedule.
Puget Sound Express is not responsible for traffic, ferry disruptions, or bridge closures. Please ensure enough travel time to account for the unexpected.
Changes/Cancellations
Our cancellation policy is 48 hours prior to a tour's departure time. A tour is confirmed when a confirmation email has been received OR payment has been processed. Prior to 48 hours from departure, any cancellation of a confirmed reservation is fully refundable, less a $10 processing fee. Inside of 48 hours to departure, reservations are non-refundable. This includes all tours booked online within 48 hours of departure. 
No Car?
No problem – Dial up a taxi, Uber or Lyft to get dropped off right at our check-in kiosk.
Motion Sickness
The waterways we travel on are relatively calm, and our boats are quite stable and comfortable. However if you are prone to motion sickness we strongly recommend preparing for your trip with us. Over the counter remedies like Dramamine work best when used prior to departure. Learn more.
Get to Know Edmonds!
Art galleries, performance halls, an historic downtown with sandy beaches – Edmonds is a terrific play to stop, breathe, and linger! Learn more.
Whale-wise Whale Watching
Puget Sound Express is a proud member of the Pacific Whale Watch Association (PWWA), dedicated to responsible, sustainable marine wildlife viewing and conservation in the Pacific Northwest. We're also dedicated to reducing our footprint out there. The Swiftsure and Saratoga are sound-proofed, hydrofoil jet boats with no propellers, making them the quietest vessels in the whale watch fleet.
Learn about our practices and our conservation partners.